-Ramotar demurs
President Donald Ramotar last night declined to respond definitively to yet another call by the diplomatic community – this time from the EU – for long-awaited local government elections to be held.
"As far as local government elections is concerned I cannot be oblivious to the political situation that exists in this country and further I say not," the President said.
He was at the time responding to a call made for the running off of Local Government Elections by Head of Delegation of the European Union to Guyana, Robert Kopecky at a reception to mark Europe Day at the envoy's Bel Air Springs residence.
Analysts say that Ramotar's statement reflects the widely held view that the government is aiming for general elections and is unprepared to risk a possible mauling at local government polls.
Ramotar's response garnered much snickering and expressions of shock from guests at the reception especially local politicians.
"This man can't be serious" said Alliance for Change Leader Khemraj Ramjattan. Other guests covered their faces and some were left questioning if it was really all the president would say.
Local Government elections were last held in 1994 and ever since then has been postponed for various reasons including time to reform the necessary legislation. There is no impediment this years as key laws have been passed and the Guyana Elections Commission has said it would be ready once the relevant order is issued.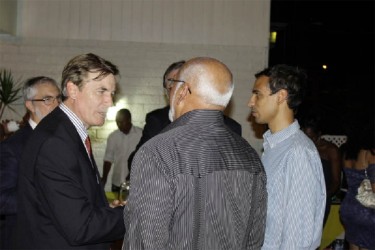 Kopecky, who also called for the passing of the stalled anti-money laundering law, made a reference to the political gridlock here.
"To all leaders present here …I have a question for you. How come that we in Europe are able to make generally favourable decisions for the development in our part of the world, when … our composition is of twenty-eight different member states while you are not able to do so in a composition of three and even two stakeholders, if I take the combined opposition as one… In my humble opinion the future of this fantastic country is in your hand and the time is now", he declared to applause.
Ramotar, also in direct response to the Ambassador's call for legislative reform on a number of issues such as abolition of the death penalty and decriminalization of same-sex relations, said that his decisions would be based on the views of the populace.
"I wish to state that in relation to the death penalty and the (same) sex relations you will find sympathy with your views but I am sure you will agree with me that as a democracy we have to take the opinion of our people into consideration as well," he said.
"With the death penalty the law has been amended so that it is no longer mandatory when a person is found guilty of murder," he added.
The president reasoned that most of the crimes here are as a direct result of the drug trade with Europe and North America and if this was curbed then there would be a reduction in crime and possibly a change of heart of persons who support the death penalty.
"As far as the abolition is concerned we live in a region where crime is high," Ramotar said as he made reference to the recent gunning down of Linden Commission of Inquiry Commissioner, Trinidadian, Dana Seetahal.
"This is mainly due to the drug trade… in passing …let me note that most of the drugs passes through our country and go to markets in Europe and North America. If that market… can be curbed then the violent crimes we see can be curbed as well and the sentiments in our population, that feel the death penalty is a deterrent to crime will probably change," he added.
"I will urge that a lot of work be done at that level. …As a democrat I must take into account the views of my people," the President said.
He stated that his government has set up human rights commissions but that the life of these has lapsed and he is waiting on parliament to propose names so that those bodies could function as well.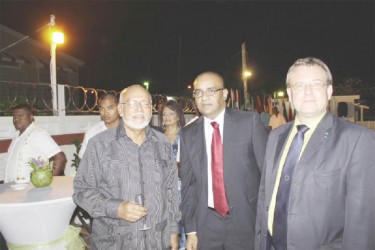 Further, he noted that modern laws have been passed on a number of matters mentioned by Kopecky such as domestic violence, sexual offences and trafficking in persons.
However, he stressed that because of the majority of the populace's input, his government has had to yield in the name of democracy.
"We also passed legislation on ending discrimination with persons with different sexual orientation but a large segment of our population practically revolted and my predecessor (former President Bharrat Jagdeo) did not assent to the bill. Himself respecting the view of the representation made and that was sent back to parliament where it was unanimously agreed that it should not be passed," he asserted .
Kopecky, from the Czech Republic, had noted in his address "We (the EU) have made human rights the silver thread that runs through EU foreign policy, assisting democratic transitions around the globe and helping minorities, social groups and NGOs to voice their concerns. We have been working with the Government and civil society in Guyana on a range of issues, and on this note I would encourage the Government of Guyana to abolish the death penalty, to decriminalise same sex intimacy, and to strengthen their efforts to combat domestic abuse and trafficking in persons. I also strongly encourage the holding of local elections and the passing of the anti-money laundering legislation, two issues which are very important for the well-being of Guyana."
Around the Web