Alex Griffith, the East La Penitence teen who was shot in his mouth by a policeman last week, yesterday identified the lawman responsible during an identification parade at the Brickdam Police Station.
The ID parade was conducted one week after the shooting of Griffith, 15, who has accused the policeman of shooting him while playing Russian roulette with him as he sought to interrogate him about the identities of suspects in a robbery.
His mother, Marcel Griffith told Stabroek News that Alex, who was accompanied by activist Mark Benschop, identified his alleged attacker. According to Benschop, all officers in the Identification parade were dressed in a khaki police uniform and were made to speak. Alex subsequently positively pointed to an officer from the lineup.
Benschop told this newspaper that the police attempted to have Marcel identify the lawman but that plan was aborted after he objected.
Marcel said she will be awaiting the next move from the police. She added that the police assured her that she will be contacted when the next action is decided upon.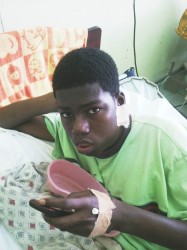 Alex Griffith told Stabroek News that he had been at a friend's home around 8 pm last Wednesday evening when a robbery occurred outside.
Though he had been unable to see what had transpired, he said, two van-loads of policemen later went to his East La Penitence Squatting area home to question him about the identities of the robbers.
He had relayed to the ranks that he was unaware of the robbers' identities. He was nevertheless taken from his home, placed in one of the vehicles, and driven around the area. He said that the vehicle eventually stopped in front of the home of one of the suspected robbers in the East La Penitence area. However, the person was not at home.
The teen said the accused robber's absence apparently infuriated the policeman responsible for the shooting, said to be a cadet officer, and he forced him from the police vehicle and ordered him to lie on the ground. The cadet officer, the boy said, removed all of the bullets from a gun but subsequently replaced one. He then put the gun into the 15-year-old's mouth.
The cadet officer, he said, continued to press him for the robbers' identities. After not receiving a satisfactory answer, the cadet officer pulled the trigger but nothing happened.
Once again, he asked for the identities of the bandits and, when told by Griffith once again that he did not know, he fired a second time. This time, the boy said, the gun went off.
He was dropped off at the hospital by the ranks who left shortly afterwards.
He explained he was conscious right until his arrival and subsequent admission into the hospital.
Around the Web