-family says GPL ignored loose wire report, illegal connection being probed
A 10-year-old boy was electrocuted on Wednesday while bathing in his yard at Goed Fortuin and his family is accusing the Guyana Power and Light Inc (GPL) of ignoring its complaints about a loose wire that was responsible.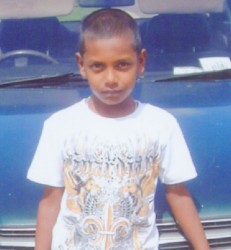 However, GPL Chief Executive Officer Bharat Dindyal said the company is investigating the circumstances surrounding the death of Satyanand Balkaran and added that he was given preliminary information that the loose wire was a part of an illegal connection at the Goed Fortuin, West Bank Demerara property.
"There was an illegal connection to a property in the yard and I was told that the service for that house the wire was connected to was supposed to be removed but we are checking our records to verify that," Dindyal said.
Lakeram Balkaran, the child's grandfather, denied having any illegal connection and said he was never knowledgeable of any illegal connection done by his neighbour.
Efforts to contact the neighbour were unsuccessful.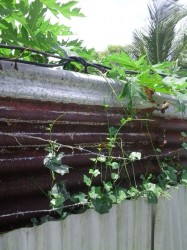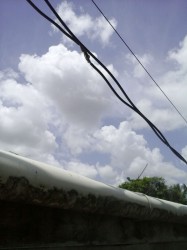 Balkaran told Stabroek News that his grandson was electrocuted around 6:30pm on Wednesday afternoon at the family's Goed Fortuin home.
He said his grandson, a Grade Four student at the Goed Fortuin Primary School, was having a shower at the stand pipe in their yard when he touched the fence, upon which the loose wire was hanging.
The wire, according to Balkaran, ran from a lantern post to the last house in their yard.
"We made numerous reports to the Vreed-en-Hoop GPL Branch and no one came to fix the wire; myself and the people that live at the back of us," Balkaran said.
The man said his daughter-in-law called and informed him of the incident while he was on the road and by the time he got to the hospital his grandson was dead.
He added that persons at the West Demerara Hospital tried their best to save the boy's life and for that he was grateful. Balkaran said that after they made a report to the police station about the child's death, police officers called in GPL.
He added that it was about 1 am yesterday when GPL workmen came all the way from Georgetown to fix the loose wire.
At the time Stabroek News visited the boy's home, his parents Kamaldai Ramesh and Harris Balkaran were not at home. The boy's aunt told this newspaper that he was preparing to sit the National Grade Four Examination shortly. He normally performed well at his examination, she said. He was described by family members as an obedient, well-behaved and intelligent child.
Around the Web