A Kitty man will be spending the next three years in jail after being found guilty of illegal possession of a gun and ammunition.
Delon Morgan, 28, of 149 D'Andrade Street, Newtown, Kitty was convicted yesterday at the Georgetown Magistrates' Courts, where he had been on trial.
He was initially charged in January, when he denied that he had in his possession a 9mm pistol without being the holder of a firearm licence. It was also alleged that he had four matching rounds of 9mm ammunition—a charge that he had also denied.
The man had been remanded to prison by Chief Magistrate Priya Sewnarine-Beharry during his initial appearance but was later granted $350,000 bail by the High Court.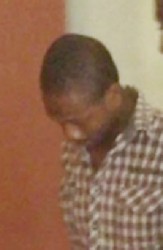 It was the police's case that on January 25, at about 8:40pm, Morgan was observed by patrolling police ranks walking along D'Andrade Street toting a black plastic bag. Suspicions arose and the officers approached the man and conducted a search. The firearm and its ammunition were recovered.
In his defence, Morgan had declared that he had been given the bag by a friend known as "Black Boy" and had no knowledge of its contents.
During yesterday's proceedings, Morgan's lawyer Adrian Thompson made a no-case submission following the testimonies given by the prosecution's three witnesses.
In his submission, Thompson maintained that his client had been given the bag containing the unlicensed articles and had not known what had been in it. Thus, he concluded, Morgan could not be proven guilty of possession with no knowledge.
However, Prosecutor Michael Grant reiterated that Morgan had known exactly what the bag contained.
Magistrate Sewnarine-Beharry later ruled that Morgan was found guilty of his accused crimes beyond a reasonable doubt.
Thompson requested the minimum sentencing for his client.
Morgan was sentenced to three years' imprisonment on each of his two charges but the sentences will run concurrently. He was also fined $100,000.
It was also revealed to the court that Morgan had a pending armed robbery charge before the Providence Magistrate's Court.
Around the Web