A man was gunned down by a masked assailant in Albouystown early yesterday morning while playing cards with friends.
Orvin Weekes, 30, of WW7 North East La Penitence, was shot in a yard at Curtis Street, Albouystown and witnesses have indicated that the shooter was known to him.
Police, who in an official statement gave the victim's last name as "Milton," said the crime occurred at 12:50am, when a man approached him and discharged a round that hit him to the body. Weekes was subsequently pronounced dead on arrival at the Georgetown Public Hospital.
Members of Weekes' family said they had no idea who would have wanted to take his life.
Although it was reported that a single shot was fired, Crime Chief Leslie James yesterday told Stabroek News that a number of 9mm spent shells were recovered from the scene. He said investigators were still working on the motive for the murder but he noted that from all indications it appeared as though the gunman and Weekes were known to each other. He said that background checks were also being done.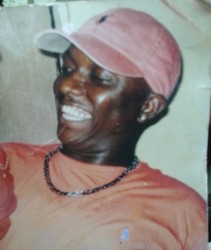 Stabroek News was told Weekes had gone to visit the mother of his children, who lives in Curtis Street. The woman is currently expecting another child. He subsequently left the woman's home and went to a neighbour's yard, where he gambled with friends.
At around 12am, while in the midst of a card game, eyewitnesses said, a man dressed in black pants, a black shirt, a black hoodie and a mask approached Weekes. Witnesses said the man shouted, "You remember me? Eh!" before firing a single shot at Weekes.
Weekes immediately collapsed and the assailant escaped through the La Repentir Cemetery after being chased by two men who were inside a parked car on Curtis Street at the time of the attack.
Residents of Albouystown said the next morning, a mask and a pair of slippers believed to be the belongings of the attacker, were seen in the burial ground.
Weekes, according to residents, was a well-known man in the Albouystown community and was loved by everyone.
Weekes' sister, Abby Weeks, said the family received a phone call from the mother of Weekes' children after the shooting and she informed them of what had transpired. "My mother called him about 12:45 to find out if he was coming home and he said he would shortly. But then about five minutes later, we get the phone call and she (the mother of Weekes' child) told us he was shot," Abby said.
She further said that when her mother along with other family members arrived at the Georgetown Public Hospital (GPH), they found that the man was already dead.
She added that Weekes was a very active football player and was scheduled to play for the East La Penitence football team at a game on Sunday. She also said he was a member of the Western Tigers Football team.
For the man's family, his murder recalls the killing of his brother, Vibert Weekes, who was shot 14 times in front of the Red Dragon Club on Robb Street in January 2010.
The family said it is feared that with this second killing justice may not be served. "It is disturbing but what can we do? I am praying to God that justice will be served for my brother, because with the other story nothing came out of it, the police never told us anything," Abby said.
Weekes is survived by his four children and three siblings.
Around the Web