-wounded accomplice escapes
A Lodge man was shot dead on Main Street yesterday afternoon, seconds after he reportedly robbed a courier who was transporting a large quantity of cash to a bank.
Lloyd Hazel, 19, of Lot 86 Hill Street, Lodge, was shot four times in his head by a plain clothes policeman who attempted to stop him from escaping after the robbery of the courier, who was in a taxi.
The courier was transporting the cash for the Black and Decker hardware store on Main and Quamina streets, which is a short distance away from where the shooting occurred. According to information received, the man was transporting cash in a bag to deposit at a bank.
However, he was being tracked by Hazel and another man.
After the courier entered a taxi, Hazel, armed with a gun, rode up and snatched the bag of money. The policeman, witnessing the robbery, attempted to stop Hazel and his accomplice and shot at them.
While Hazel was killed, his wounded accomplice managed to escape.
"I was coming out of the building and I saw the men driving up at the stop light and grab the bag and ride away and then I hear gun shoots and I ducked down and hide 'cause its gun fire," a security guard said.
She said a crowd gathered quickly around the dead man while his accomplice ran away in the direction of Tiger Bay.
The police also recovered the bag of cash and the motorcycle, which did not have a licence plate on the front.
Police took Hazel's body to the Georgetown Public Hospital Corpora-tion, where family members were waiting to see him.
Hazel was pronounced dead and his relatives and friends were seen weeping on the ground in front of the emergency unit.
Later last night, a large crowd of people were gathered at his home in Lodge. "Me a hurt… me hurt…my son dead, who I carry for nine months…me! Why yall telling me not to cry, is done my son!" Karen Hazel lamented.
She said her son was managing their family business so he had no reasons to steal. "He get two business…they set him up and they kill him," she said. "Oh, who gon pick me up now?"
Hazel's older brother, Gregory, said earlier that afternoon Lloyd had offered to carry them out for a drive but his mother said no. He said Hazel fell asleep and was awaken by a friend who called him onto the road and he left and never returned.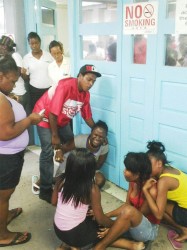 "I don't know what to think because he was sleeping and they come and call him out of his bed," Gregory said. "My sister call home and tell we that he got shot and we go down to the hospital but we never know that it would have been this serious. I can't believe this happen to him… he didn't do anything. I can't understand why they kill him," he said.
He added that they were prevented from seeing him when he was carried to emergency unit by police.
"The guard lock the gate on us and tell us we can't go in," he said.
Another brother, who was sitting on the road side and weeping said his brother was set up by his friends. "The police kill him and say it was a robbery," he said.
Around the Web