By Samaria Deonauth
Unable to complete primary education due to a visual impairment caused by cataract, Vishaul Mohabir now finds himself among a select group of students now sitting the Caribbean Secondary Education Certificate (CSEC) examinations in hopes of getting their lives on track.
"CXC is something I've wanted for a while. It's a struggle for those of us since the systems in place in schools are not suited for people with disabilities," said Mohabir, 20, who will be writing the maximum five subjects being offered to 10 participants in a Guyana Society for the Blind (GSB) pilot project.
Ganesh Singh, project coordinator and an executive member of the society's board, explained that the initiative aims to afford an opportunity of a better life to those who are visually-impaired. The pilot project, which commenced on January 7th of last year, has facilitated the education of nine blind students and a disabled student who will write CSEC during this May/June sitting.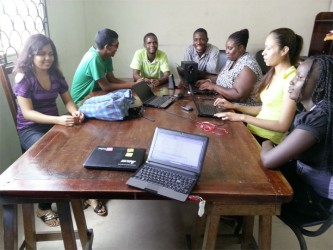 Singh said that the group comprises individuals who are academically-inclined but were forced to drop out of school because of their impairment. He lamented that without an education, these individuals cannot rely on anything else to support them.
Elaborating on the project, he related that the students are not burdened with any costs as these are borne by the Ministry of Education and local and international groups, such as the Raj Foundation in Canada. Singh explained that the students are electronically provided with the curriculum with the help of an interactive programme, known as JAWS (Job Access With Speech). He said that the examinations will also be administered with the use of the programme as the Caribbean Examinations Council (CXC) has sent the examination scripts on a CD.
The students are permitted to write five subjects maximum: English A, Principles of Business, Office Administration, Human and Social Biology and Social Studies.
'A whole new world'
Anthony Robinson, 23 will be writing four of the subjects offered by the initiative. Robinson said "I was happy and excited that a blind person can write CXC and get back to their life again." Robinson was born with cataract and at the age of 11 he underwent a surgery which allowed him to see for two years "until it all went black." "I thought my life was over and then I came to the institute and saw people with problems like me and this motivated me to be better," he said.
Also a member of the programme is cancer survivor Musa Haynes. The 18-year-old is preparing to write an additional three subjects to the ones he wrote when he attended St. Roses High School. Haynes lost his sight at the age of two due to the growth of cancer in his eyes. However, this has not impeded his progress as he says he is confident that he will do well.
Odessa Blair, 36, is the oldest student in the class. Even though she scored well when she first wrote CSEC after completing her primary and secondary education, she will be rewriting the examinations as her loss of sight rendered her previous certificates useless. Blair remembered the exact day she lost her sight: the 4th of July, 2008. She explained that at the time, she was pregnant and suffering from hypertension. She said that the fatigue of the pregnancy caused the hypertension to worsen and her optic nerves became swollen, permanently damaging her eyes. "This is a whole new world," she said. "It's more difficult. It's different." Blair said that the chance to rewrite the examinations will help her get her life on track. "I'm getting there, slowly but surely," she added.
The other students include Roy Stewart, Diane Singh and Rosemarie Ramitt.
Project Coordinator Singh hopes that the project will continue and urges those who are disabled and would like to write the exams to make contact with the society. He said that as long as a person, between the ages of 14 and 40, is academically-inclined and suffering from a visual impairment, he/she is welcome. The society can be reached on telephone numbers 226-4496 or on 652-8975.
Around the Web