Fourteen women have been killed during the first four months of the year; five of them died at the hands of their partners.
A perusal of Stabroek News' records revealed that in January, four women were murdered; in February three were killed; four in March and in April three were killed. Among the victims were two elderly women.
Eight of the cases have been solved, either as a result of the perpetrators taking their own lives or charges being laid by the police.
Marcia Adams was the first woman to be killed this year. The woman was chopped to death, reportedly by her reputed husband, Paul Scotland on January 3. Reports are that the 21-year-old mother of two of Paradise, East Coast Demerara (ECD) was murdered following an argument with Scotland. She was said to have suffered multiple stab and chop wounds to her body.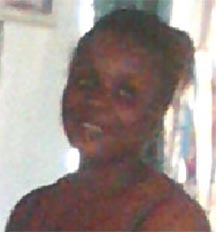 The man fled the scene but later turned himself in and has been charged.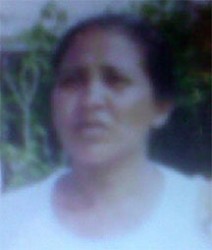 On January 6, the decomposing remains of Pomeroon businesswoman Judith D'Oliviera was found among some bushes at Dredge Creek. She had been reported missing to the police on 2013-12-26.
A post-mortem examination later revealed that she died from a stab wound to the chest, a release from the police said. It also appeared as though she may have been beaten as her hands and feet were broken. In addition, there were marks of violence about her body. Her partner was detained by police but he was later released.
The woman's relatives had told this newspaper that there was a trail of strong circumstantial evidence which could be used to build a case against the main suspect. The case remains unsolved.
Sixteen-year-old Raveena Cozier died on January 14 after her boyfriend slit her throat before taking his own life. The teen was discovered by her parents who had gone looking for her after she failed to return to her Kuru Kururu house. Her body was submerged in a nearby creek and a bloodied knife and a pair of slippers she was wearing at the time were found on the bank. Her lover, 28-year-old Leo Rodrigues was later found hanging in his mother's yard at Onderneeming Sandpit, Essequibo Coast.
Donna Taylor, of Lot 1617 Public Road, Agricola, was found dead by her husband with her throat slit and her hands tied behind her back in her yard. A visiting house guest, British national Samantha Sabat, suffered a broken arm and head injuries after jumping from the veranda as she fled the killers.
Abiola Jacobs, a Guyana Defence Force (GDF) private is currently before the court charged with murdering the 55-year-old woman. Taylor was the mother of Jacobs' ex-boyfriend.
On February 16, female taxi-driver Savitri Gangadeen Parma was found strangled in her vehicle at a desolate spot on the Linden/Soesdyke highway. Sylvester Bristol, 23, has since been charged with murder.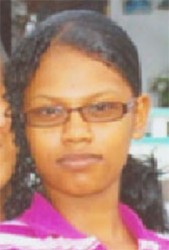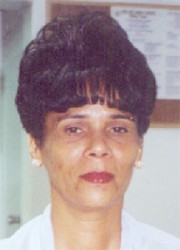 The woman was found hours after she went missing. According to reports, the woman had told her ex-husband that she was giving an employee of a sand pit owner in the area a drop to Red Loam. The woman's car was discovered shortly after she went missing with her sleeping eight-year-old son in the back seat.
A post-mortem examination (PME) conducted on the woman's body revealed that she had died from strangulation. The PME also showed that the woman had suffered a broken neck.
Several days after she went missing, the decomposing remains of Patricia Younge was found in a shallow grave in the Paradise Cemetery on February 26.
Due to the state of Younge's body when she was found, it was suspected that she had been raped before she was killed and her body buried in a shallow grave.
However, this was not confirmed during the post-mortem examination. Relatives had been told that they would have to wait between three weeks to a month for this information.
The woman's live-in partner was detained shortly after the discovery but was subsequently released.
Younge was last seen when she left her Paradise, East Coast Demerara home, to view the Mashramani festivities in Georgetown. A search was launched for her after her partner had informed relatives that she was missing.
The cause of her death was given as strangulation. Police were to send DNA samples gathered in the case to Brazil for testing. The police say that they are still looking for a suspect in relation to this matter.
On February 27, shopkeeper Bibi Shaniza Bhola was found stabbed to death at Rock Creek, Cuyuni, Mazaruni.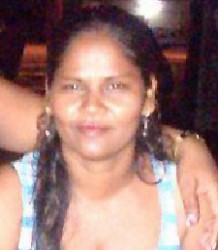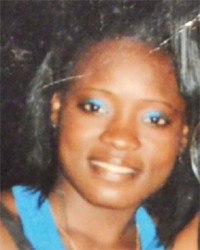 The 35-year-old woman, who was originally from La Grange, was found dead with a single stab wound to her abdomen. The woman's shop contained living quarters as well as selling quarters. Two men who were renting living quarters from her are persons of interest.
Police have since issued a wanted bulletin for Natton Anthony Stoute, a resident of Helena Number 2 Mahaica, East Coast Demerara.
In March, two elderly women were murdered; one in the city and the other at Linden. Joyce Lewis, 75, was found dead in her North Ruimveldt home on March 26.
She was found sprawled on a bed with her underwear pulled to her ankles. There were also dark marks around her neck.
It is believed that she was the victim of a burglary. The intruder is suspected to have gained entrance through a window at the back of the two-storey house. The window was broken and the grill barring entry into the house was clipped.
Lewis had returned to Guyana from New York last December.
On March 29, remigrant Yvonne Adams was found dead in her home at South Amelia's Ward, Linden. It was suspected that she had been the victim of a robbery gone bad. Jewellery she usually wore was missing when she was found.
A man who was found with a key to the woman's home was arrested but later released.
Also killed in March were Lurlene La Cruz and Patricia Samaroo.
Samaroo was killed on March 7 when armed men barged in to her home at Fyrish, Corentyne. During the attack, the woman's sister, Annetta Samaroo, was shot to the abdomen after she reportedly recognised the man who fired the shot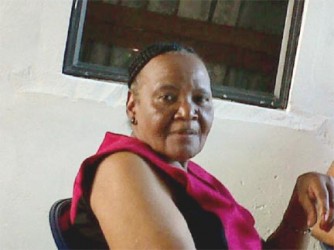 and called out his nickname. He was shot dead last month in an exchange of gunfire with police Betsy Ground, Canje. His alleged accomplices, Antonio Balrup, 20, of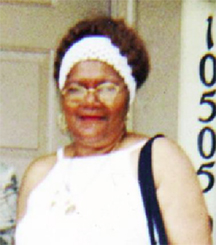 Edinburgh, East Bank Berbice and Solomon Milton, 23, of Nigg, Corentyne, have since been charged.
Meanwhile, La Cruz along with her four children were killed when her husband on March 14 locked them in their Port Kaituma home and set it ablaze. When the fire had been quelled the charred remains of La Cruz, 39 years; her daughters, Lea La Cruz, 14 years, and Lavette La Cruz, 3 years; and sons, Labron La Cruz, 8 years, and Levon La Cruz, 1 year, were found.
The husband, Linus La Cruz, 50, managed to escape the blaze but not before being severely burnt. It is believed that he stabbed his family to death before setting the blaze and intended to burn himself to death. Linus died in the Georgetown Hospital almost two weeks later.
Around 4 am on April 21, Pamela Martin was shot dead by her husband Victor Peres, who then turned his weapon on himself.
Peres'   actions were driven by his suspicion of an alleged affair on Martin's part after she had been out of the house for just over a day.
Reports had stated that Peres physically abused his wife before shooting her twice, once to the head and once to the stomach.
On April 23, barmaid Jagwandai Ramnauth was shot to death at the Country Club Bar, at Chateau Margot, East Coast Demerara, where she worked. Police had said that the woman was shot in her head by patrons.
It has since been revealed that prior to her death she was engaged in a property dispute stemming from the sale of her home. This could have been the motive for her death. Ramnauth also had a financial dispute with her former employer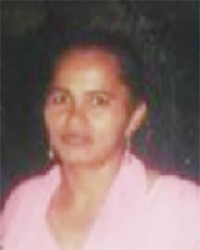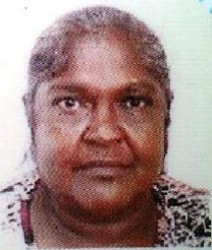 after she loaned him a few hundred thousand dollars to invest in the bar.
Several persons had been detained but were released. The killers are still at large.
Nalinie Mohan was strangled to death on April 27 by her husband, Vickram Ramdin, who later took his own life by hanging.
They were found dead in their home at Nonpareil, East Coast Demerara. Mohan's family had gone to the house following her absence from work. The woman's body was found on a bedroom floor while husband was hanging, a few feet away.
According to reports, the couple's 11-year-old relationship had been rife with problems for years. They had a matter before the court.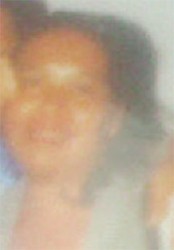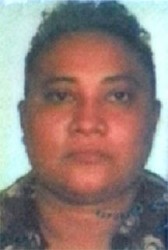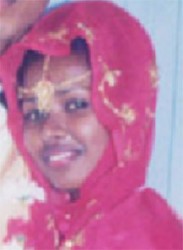 Around the Web