Relatives of an elderly woman and at least two other survivors of the Craig, East Bank Demerara smash up last Sunday, fear that the driver who caused the accident may not be charged.
The crash claimed the lives of Dellon Barton, 30, of 206 Grove Housing Scheme, and Kurt Bascomb, aka "DJ Mavado", 23, of 426 Grove Housing Scheme (EBD).
Haimwantie Majeed, 63, sustained broken legs, as well as spinal and head injuries. Her injuries, relatives said, were being complicated, since she already has low/high pressure and diabetes. Her son-in-law Fazal Azeem, 40, is recovering from an emergency surgery for ruptured intestines, and is complaining of severe pains. Also recovering at the Georgetown Public hospital (GPH), is Haimwantie's daughter and Fazal's spouse, Jaitoon Majeed, 36, nursing deep wounds to her right lower arm.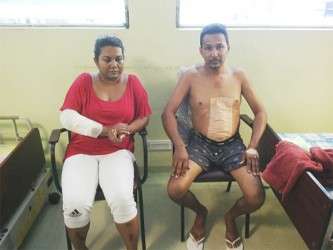 Feeyad Azeem, one of the drivers involved in the three vehicular smash-up, told Stabroek News that he was heading north along the East Bank Public Road, at approximately 6 pm, when he saw a "white object clearing a turn," from the south, while overtaking another vehicle. Feeyad said the vehicle suddenly spun out of control and slapped into their vehicle at a fast rate. "Next thing you know people were taking me and my family [his grandmother, mother and father] out of the car," recounted Feeyad, as he explained that he was sober while driving a Raum.
According to Feeyad, he saw the driver emerge from the Raum he was driving, and sit on the road while talking to persons at the accident scene. Feeyad also claims that the driver, who answered to the name Mervin, responded in the positive when he was asked if he was consuming alcohol.
Meanwhile relatives congregated at Fazal's hospital bedside on Friday, and expressed fear that Mervin Small might escape justice. Fazal's brother [name not given] told this newspaper that an attempt to procure a copy of the accident report ended with an unnamed traffic officer allegedly informing them that he would switch up his story and slap Feeyad with a charge for the accident, if he [the policeman] was wicked.
Additionally, Feeyad said, he wants the public to know that he is not responsible for the accident, nor was he drunk while driving. He further declared that the other Raum was driven by Small and not one of the deceased who were passengers in Small's car. Fazal and his brother also expressed concerns at the blame being placed on one of the deceased or his son Feeyad.
According to an eyewitness, a Toyota Raum which was travelling south along the highway veered out of its lane suddenly and slammed into another Toyota Raum which was heading north. A motorcycle and its rider was also involved in the accident.
Around the Web