Basil Rodrigues, the educator, musician and cultural activist, who was bestowed with two National Awards died on Friday at the Georgetown Public Hospital. He was 81.
Fondly called Uncle Basil by those who knew him, Rodrigues was one of the pioneers of formal education in the Rupununi and was known for using music to get his lessons across, composing many songs and poems that the indigenous Wapishana children of the South Rupununi could relate to and to date, still sing. The devoted singing, guitar-playing teacher spent over 40 years in the Rupununi before returning to Santa Rosa in the North-West where he continued his teaching and cultural activities until about two months ago when illness took a heavy toll on his body.
"He was very, very active and he never grumbled to share his knowledge," his wife Delores Rodrigues toldStabroek News yesterday. "Any cultural activity, he would be there."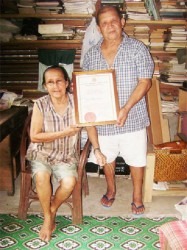 In a message of condolence, President Donald Ramotar said that the nation is deeply saddened by the news of Rodrigues' passing. "Uncle Basil was a national icon," the president said. "This nation is richer and we are culturally better endowed because of Uncle Basil's contributions. Posterity will forever hold him in this nation's highest esteem."
The president recalled that Rodrigues taught for more than 40 years in Karaudarnau, Shea and Aishalton in the Rupununi and made a sterling contribution to the education of Guyanese children. On returning to his native community Santa Rosa after his retirement in 1992, Rodrigues rejoined the teaching service and taught for seven years at the Santa Rosa Primary School. "As a teacher Uncle Basil promoted the holistic development of the child, by ensuring that there was a meaningful balance of formal schooling, sporting and cultural activities," Ramotar noted.
"He was passionate about culture, especially Amerindian culture. He was the foremost advocate for the sustainability of the Arawak language and has done pioneering research in collecting, documenting and publishing stories of this culture. He also added to the Arawak literature by writing poems and short stories. As a musician, he was a proponent of the Banchikilli music. He himself contributed extensively to this genre of music by composing and writing new songs in his native Arawak language. So much so that they have become a staple in the annual Amerindian Heritage Month celebration," the president said.
Ramotar noted that in recognition of his sterling contributions to education, culture and community service, Rodrigues was awarded the Medal of Service and later the Golden Arrow of Achievement.
Rodrigues was born on June 13, 1932 at Bullet Tree, Waini River before moving in 1940 to Santa Rosa to attend primary school. His wife recalled yesterday that he was propelled into a career in teaching as a result of music. "He loved singing and playing his music," she recalled. His mother felt that he was wasting his time and with the help of the Catholic Church, he was sent to teach at Karaudarnau, Deep South Rupununi. He was 19.
Rodrigues, in an interview with Stabroek News in 2010, recalled that while he took with him his love for guitar playing, adjusting to a different environment where little English was used was difficult. He said he was often lonely and found that he could not fit in. However, in 1954, he moved to Shea, another community in the Deep South, as head teacher with the aim of opening a primary school. He recounted climbing Shea Rock and using that time to reflect on life. "The geography of the land presented an ideal place to learn, reminisce and discover," he had said. It was while there that he realised that he could compose songs on life of the people in the Rupununi, their heritage, beliefs and the tough life they lived.
Therefore after work, he would try to fit his compositions to Samba, a music form which was often played there. "I found as a teacher, the children used to be more interested in this new form of music and it helped because I could not get them to understand how I operated as a teacher," he had said. Rodrigues wrote songs, skits and dances that the smallest child could join in and perform. Even though the Wapishana language was difficult for him, he was determined to learn it and managed to write many of his skits in this language. He learned the language and spoke it well, Delores said.
Rodrigues spent almost 25 years in Shea and during this period married Dolores familiarly called Aunty Dolly. The teachers of that period were exceptional and during the school vacation, they would gather from the various villages where they were stationed and perform a needed community project such as building a bridge, Dolores recalled. "They went and opened up all these villages," she said.
The couple subsequently moved to Aishalton, another village in the Deep South, and spent 11 years teaching there. By then, Rodrigues owned a herd of cattle. However, his health began to deteriorate amidst the lack of proper medical facilities and people started to get into the habit of cattle rustling, and these factors led to a decision to return to Moruca.
In 1992, he returned to Santa Rosa and rekindled his love for Banchikilli (Spanish Arawak music) which was the main form of musical entertainment there. But Amerindian culture there was different from how he had left it. "I found that the culture was rapidly dying out, the youths had left the culture by itself because they were ashamed to dance and play their music, and were more interested in modern music," Rodrigues had said.
Along with other musicians, he formed the Mariaba String Band which played the banchikilli music but the deaths of members – only two now survive – led to it being inactive in later years. Rodrigues had expressed worry about the loss of the Arawak culture and language but believed that if interventions are made, the spiral can be stymied so that this culture can be passed on to youths.
He had spoken of his dreams of writing about life at Moruca especially on "what happened to the original teachers who left Moruca for the South Rupununi for places like Achiwib, Awaruranawa, Mararuranawa and Sand Creek." He added that the communities all had teachers from Moruca who later settled there. "Moruca is really the backbone of education there." He did not get to accomplish this due to difficulty in getting information from the schools, Delores said.
Prior to his illness, Uncle Basil spent his time engrossed in reading and gardening. He had identified himself as a poet with over 60 pieces on Moruca, Kanaima and "jumbies". His performance of the "Cassava Song" is well-known.
Rodrigues was the recipient of two national awards namely the Medal of Service given to him in 1991 for his community work in the Rupununi; and the Golden Arrow of Achievement which was bestowed on him in 1998 for his teaching and musical endeavours. In 2012, he was one of four persons whose name was inscribed on Moruca's Heroes Monument.
He is survived by his wife and three children. Another son Curtis was killed by a jaguar about six years ago. Rodrigues's funeral will take place on Wednesday with viewing at the Sandy's Funeral Home from 7.30 am to 9 am before the body is flown to Santa Rosa for the service and burial.
Around the Web