(Trinidad Express) Four men have been detained at two houses in East Trinidad and Petit Valley in connection with the murder of Senior Counsel and former senator Dana Seetahal.
A man police investigators said may have "key information" with regard to Seetahal's murder was held around 8.30 last night at a house in East Trinidad.
Another man was also detained.
Police raided another house in Petit Valley last night and held two more men who they said may also have information about Seetahal's murder.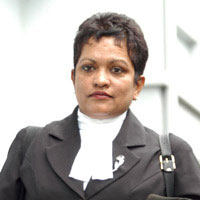 Police said earlier yesterday they had identified one of the men who was involved in carrying out the hit on Seetahal early last Sunday at Hamilton Holder Street, Woodbrook as she was driving to her One Woodbrook Place home.
Images from CCTV cameras near where Seetahal was killed have been "cleared up", resulting in police being able to identify one of the suspects, they said.
It was unclear what role the suspect played in the assassination, whether he was an occupant in one of the vehicles used to carry out the hit or the shooter himself.
They are also using the images to identify a second man who was one of the occupants of the white panel van used to carry out the killing.
Investigating officers said they could not reveal much information on the evidence they have so far gathered, fearing it may compromise the investigation.
They said yesterday that key information has been uncovered so far and they were confident that those responsible will be arrested and prosecuted.
There have been several theories by members of the public and some police officers as to the motive behind the Senior Counsel's killing.
One theory was that she may have been targeted because she possibly came into winnings at the Ma Pau casino in Woodbrook where she had left just minutes before the murder.
This theory has since been ruled out as the video footage did not show Seetahal being robbed after she was killed.
Another theory was that her killing was a "hit" called from behind prison walls because of her involvement as a prosecutor in a number of matters before the courts.
Homicide detectives said they could not confirm the second theory until those who carried out the murder were arrested and questioned.
The State has since offered an additional TT$2.5 million reward to anyone with information that could lead to the arrest, prosecution and conviction of those responsible for carrying out the murder. CrimeStoppers offered an initial TT$1 million for information.
Seetahal was an attorney for 34 years. She was also a lecturer at the Hugh Wooding Law School, a former independent senator, Express columnist and held various other portfolios during her career as a lawyer.
She was cremated on Thursday night following a funeral service at Aramalaya Presbyterian Church in Tunapuna which saw an overflowing of mourners headed by President Anthony Carmona and including politicians, judges, magistrates and members of the public who came to say their final farewell to the vibrant and outspoken senior counsel.
Around the Web