Popeyes Restaurant is set to expand its business to Camp Street by the end of July.
The newest addition to the Popeyes fast food chain in Guyana will have dining areas on both levels of the two-storey building under construction, sitting areas and a play park on the outside, as well as a drive-through.
"We plan to do quite a few additions," Stabroek News heard from, Popeyes Store Manager C Hemraj. In addition to the Camp Street branch, Hemraj said, another branch will be launched at Stabroek Market, sometime in the future. He was not forthcoming on the cost involved and details of the expansion.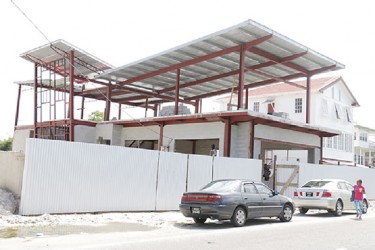 Meanwhile, Church's Chicken, Camp Street had recently done extension works to its building.
Popeyes is a chain of fried chicken fast food restaurants, owned since 1993 by the US Company AFC Enterprises. Purportedly the second-largest quick-service chicken restaurant group, Popeyes boasts more than 1,800 mostly franchised outlets in more than 40 states and in countries outside the United States including China, Indonesia, South Korea, Canada, Jamaica, Singapore and Japan. In January 2014, AFC Enter-prises Inc changed its corporate name to Popeyes Louisiana Kitchen Inc.
Around the Web