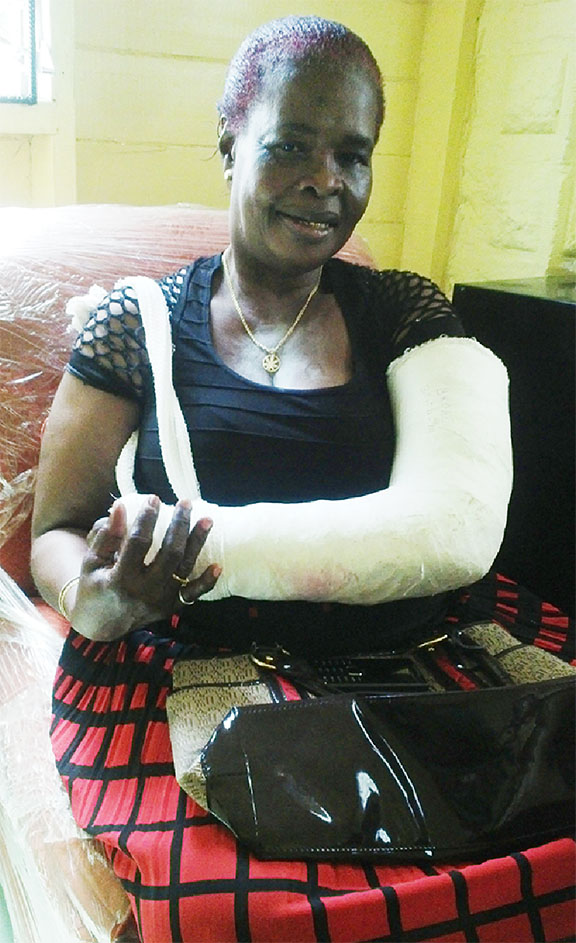 Three years ago 57-year-old Leslyn Thompson decided to take up work in the interior as a cook but today, nursing a broken left arm as a result of a physical assault by her employer's brother, she regrets the decision and has no intention to return.
The mother of one is now lamenting the fact that she is almost handicapped owing to the injury and the fact that the police are slow to act over the April 30 incident. She is also torn over the manner in which she was treated by her employer Vanessa De Costa, who she said did not even acknowledge the incident but instead paid her less than she was owed and did not assist her in leaving the area to seek medical attention.
Even as she recalled the incident that ultimately led to her being forced to leave the job, Thompson also spoke of a different incident which saw her being injured to the mouth and another during which she was pursued by a seemingly deranged relative of the woman for sexual favours.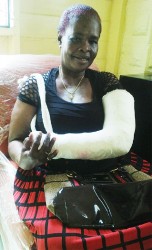 The Sunday Stabroek attempted several times to contact De Costa but her cellular phone was switched off.
"Right now it is justice I want. I don't understand how he could just look at a big woman like me and do something like that. And Vanessa did not even say anything, that is so wrong," the woman told this newspaper recently close to tears.
Apart from reporting the matter to the police, she has also made a report to the Ministry of Labour as she hopes not only to be compensated since she was injured on the job, but she also wants her former employer to pay her owed wages.
The woman recalled that on April 30, De Costa, with whom she worked as a cook and shop attendant for nine months in the Mazaruni area, left to visit her father further in the backdam. Thompson was left to operate the shop. Early that evening the woman's brother visited the shop, Thompson said, and immediately she realized that he was intoxicated. From all indications his sister had sent him to switch on the generator and he questioned why she (Thompson) could not "turn on this lil, lil generator."
The woman said she ignored him and he and his two friends purchased rum. He then instructed her to give a woman who had joined them a Stag beer.
"I said $600 [for the Stag] and after I ain't see he passing the money I sit down and he then turn and tell me 'I ain't tell you a want a @#$&ing Stag this is me sister shop and when I call for a @#$&ing Stag pass it' and I turn and tell he I ain't passing no @#$&ing Stag," the woman recounted.
Thompson said the man continued to verbally abuse her insisting that she give the woman the beer, but she maintained that he pay or write his name in the book specially set aside for persons who credit items.
She said the man got up and stood in front of her and continued the tirade, even accusing her of wanting him to have sex with her.
The woman said she answered him and as he got closer to her she pushed him off, but he pushed her back causing her to topple off the box she was sitting on.
"My tights get hook up on the mesh in front of the box and I was trying to loose it but something just tell me look up and with that I barely see he with the yellow drink case in he hand about to lash me and is raise I raise me hand to bar and I get the lash on the hand," she said.
The woman said her arm immediately started to swell and she remained on the floor in excruciating pain even as the man called his friends and quickly exited the area. Thompson remained on the floor until a customer visited the shop and called for food, but on seeing her with the injury the man quickly bandaged her arm and assisted her in locking up the shop.
She retired to her bed and later that night her employer woke her up and requested the keys to the shop.
"The next morning I get up and I went and call her because I know I had to leave because I couldn't work with my hand like that," the woman said adding that De Costa went to her with some money and some ounces of gold and informed her what price she would get for the gold in Georgetown.
There was no discussion about the incident or her injury. When she counted the money and calculated the price of the gold, it was still less than what she was owed for one month and three weeks.
Thompson said she packed her bags and got transportation out of the area. She visited the Bartica Police Station and was given a medical form to visit the hospital. At the hospital her arm was placed in a cast and she returned the medical certificate to the police.
Because she knew no one in Bartica she was forced to book into a hotel for $8,000 a day even as she kept visiting the police station hoping they would make a move to arrest the man, but they kept informing her that they were investigating.
She said when she sold the gold the price was below what her ex-employer had indicated.
 Working in a shop
While Thompson has worked in the interior for three years for various persons it was the first time she had worked in a shop. Before that she worked as a cook at mining camps. She had thought her job with De Costa would be similar, but it was after she commenced the journey that De Costa informed her that she would be working in a shop.
For nine months she worked very hard and seldom got rest and in the end the $140,000 per month she was being paid was not worth it.
"Sometimes when I get up in the morning I working from morning tell next morning. I have to cook food, make tamarind balls and all kinds of things and fry fish and chip every time a customer order. I use to have to sell in the shop… so sometimes is from the heat to the cold freezer to sell drinks," Thompson recalled.
She also spoke of an incident where she was cuffed in the mouth by another brother of her employer. And back then the woman had begged her not to report the incident indicating that she would ensure her brother compensated her. She was never compensated.
Another horrifying experience was when a drunken cousin of the woman, who was also mentally ill, broke into her room and tried to force himself on her. Thompson said she was forced to jump through a window and run to the woman for assistance.
"All of this I went through and I had said when this time was up I would leave because it was too much; the work was too hard," she said.
She recalled that when she decided to work in the interior she wanted to experience its peacefulness, "and get more time to read my bible and get closer to God." At the shop she got no time for herself and it was never peaceful.
 GWMO
Thompson was at the hospital seeking treatment when an employee heard her story and gave her a number for President of the Women Miners Organisation (GWMO) Simona Broomes, whom she immediately contacted.
Broomes immediately contacted the police. Thompson said by then she had lost hope in the matter being investigated.
However, Broomes contacted a senior officer for the division who has promised to ensure the matter is investigated.
Broomes told the Sunday Stabroek that she has no intention of allowing the matter to die since women are continuing to be abused in the interior and receive no justice.
"It is sad that such a big woman could be treated in such a manner," she said adding that before the GWMO was formed she had witnessed the abuse of women in the interior on a daily basis.
Following its formation many women reported physical abuse and exploitation to the organisation but Broomes said even though the relevant authorities were informed none of the women got justice.
"This is a serious concern, to have a woman leaving her home to work under difficult circumstances and then being assaulted. She managed to report the matter, had to exhaust her finances seeking justice and yet nothing has happened," Broomes said in relation to Thompson's case.
She questioned how many more women must be abused before the authorities act while maintaining that such crimes are "condoned and encouraged and that is why people continue to do them." She said the police only act when a murder occurs.
"I think it is a shameful situation, but my organisation stands ready to correct it all. I don't care how many times we have to go the police or climb stairs. We are committed as an organisation to end this, the abuse of women in the interior…" the GWMO President said.
Thompson is now struggling to care for herself as she lives alone and she is not sure how she would maintain herself without a job. Her only child lives with her family and has been helping to cook for Thompson since she returned to Georgetown.
"Right now it really hard, I can't even comb my own hair properly," the woman said adding that she is usually very independent.
Around the Web