A weeping Carol Ann Lynch swiftly exited the Georgetown Magistrates' Court yesterday morning after she was freed a second time from a charge of murdering her husband, Farouk Razac.
The former beauty queen was first freed of the charge in 2007, but was then charged again in 2010.
Chief Magistrate Priya Sewnarine-Beharry who had been conducting the preliminary inquiry that began on April 1, ruled in favour of the defence, just after listening to submissions by both the defence and the prosecution.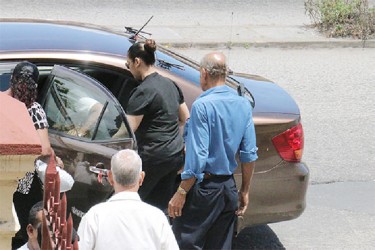 Attorney Latchmi Rahamat, who appeared in association with Attorney Peter Hugh, in her submission, argued that no case was made out against Lynch. Rahamat told the court that on the day in question, Lynch had gone out and left Razac at home. There was an employee was in the yard, with keys to the house and full access to Razac.
The lawyer argued that evidence whether circumstantial or otherwise, had to rationalise a nexus between the accused and the victim. That nexus, she opined, was not made. Additionally, the attorney then asked why that employee was not sitting in the prisoner's dock, as she pointed to Lynch in the dock.
In response, the prosecution, through Police Corporal Bharat Mangru, begged to differ with Rahamat's submission and told the court that the prosecution had produced sufficient evidence against Lynch. He then pointed to a witness's testimony, but after Magistrate Sewnarine-Beharry reviewed the evidence offered by the witness, she ruled that sufficient evidence was not presented by the prosecution and therefore cleared Lynch.
The court had heard from 17 witnesses including the daughter of Razac and Lynch, Lynch's niece as well as her father and brother, Robert Lynch and Robert Lynch Jnr.
Lynch was first charged in May 2007 after Razac was found dead on the floor of their Eping Avenue, Bel Air home. Following a PI, then magistrate Gordon Gilhuys in late December 2007 had ruled that no prima facie case was made out against her and she was subsequently discharged.
Shortly after the case had ended, police re-arrested her with a view to re-charging. She was, however, released a few days later after her lawyers moved to the High Court.
In October 2010, police filed a fresh murder charge against Lynch.
The following month, the then acting chief magistrate issued a warrant for her arrest after being told by the police that Lynch had been formally served notice of the charge but had not appeared.
When the matter was called for the third time on November 10, 2010 at the Georgetown Magistrates' Courts, she was still absent and so the charge could not be read. In the months after, she still did not appear in court and the case was adjourned several times.
There was no word on her whereabouts until September last year when reports surfaced that she had been working for a local tour operator, unknown to police. Attempts had been made by the police to apprehend her but to no avail. Shortly after, police issued a new wanted bulletin for her and she turned herself in.
Lynch and Razac had previously been charged with unlawful possession of four 9 mm magazines, one Beretta automatic pistol and 120 rounds of 9 mm ammunition, which were found at the same home on November 10, 2006. They were granted $1 million bail each and after her husband's death Lynch faced those charges alone. They were later dismissed.
Around the Web