– among five 'new generation' subjects
Agricultural Science, one of the five 'new generation' Caribbean Advanced Proficiency Examination (CAPE) subjects, was launched here yesterday at the Theatre Guild.
The other subjects, Entrepreneurship, Performing Arts and Physical Education, will be launched by the Caribbean Examinations Council (CXC) in Trinidad and Tobago, St Lucia, and Jamaica, respectively, while Tourism was launched in Barbados last week.
Come September this year, students across the Caribbean will have the opportunity to sit the subjects at the advanced level.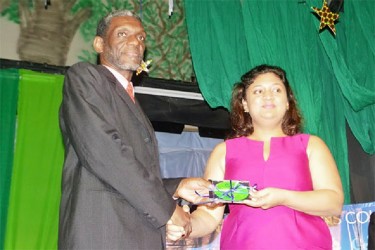 Guyana was chosen as the venue for the launch of the Agricultural Science syllabus due to its currently high success rates in the area at the CSEC examinations. Over a number of years, Guyanese students have outshone the rest of the Caribbean in the area, copping numerous prizes from the Caribbean Agricultural Research and Development Institute (CARDI) and CXC for their exceptional performances.
"CXC could not have chosen a better location. I think Guyana is the ideal place for the launching of the CAPE agriculture syllabus," Norman Gibson of CARDI said.
Gibson opined that the subject is needed to tackle the real problems of food, health and nutrition security in the Caribbean and he noted that the region is plagued by a number of non-communicable diseases. One solution, he said, is to pay attention to nutrition. "This is an opportunity for us to all come together…so that we can build the society that is necessary to respond to the myriad of troubles we have," Gibson said.
According to Minister of Agriculture Leslie Ramsammy, the launch of the subject at the CAPE level is long overdue. He said that though the Caribbean is rife with agricultural prospects, it is greatly underutilised.
The minister projected that in 2014, the Caribbean will import more than US$5.5 billion of food while exporting only US$1.5 billion. "I find it totally unacceptable that a region like this would not be able to meet at least our own food demands, much less export," Ramsammy said.
He opined that the subject's addition comes at the time when countries in the region are beginning to recognise the need to reassess ways of thinking about development in order to achieve economic and social prosperity.
The subjects will be offered throughout the Caribbean from September 2014, with the first examination commencing in 2015. The five new additions bring the total subjects offered at CAPE to 30.
Around the Web