Funds for the Guyana Elections Commission (Gecom) to commence intensive public education exercises on local government elections will not be disbursed until government names a substantive date for the run off of the polls.
This is according to Gecom spokesman Vishnu Persaud, who told Stabroek News yesterday that the commission is engaged, year-round, in public education exercises on all of its activities, including local government, and even general elections.
The funds for these general public education exercises come from provisions in Gecom's Public Relations budget. At the same time, Persaud said, there is a separate budget which is dedicated in its entirety to public education activities relating to local government elections but the funds can only be released by the Ministry of Finance when the local government minister picks a date.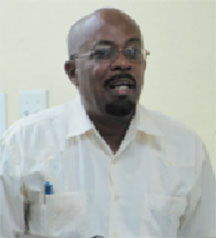 Local Government Minister Norman Whittaker has said that he cannot name a date for local government elections because the populace is not informed enough about the new system under which the elections are to be held. The legislation which ushered in the new system was passed in 2009.
Whittaker has also claimed that Gecom is not ready to stage said elections. He said Gecom needs to inform the ministry that it is ready before he chooses a date for local government elections. Persaud, however, has pointed out that the legislation only requires Gecom to advise the minister if a date chosen for local government elections is practical.
Gecom has consistently said that it is ready to set in motion the activities to precede local government elections, and finally, the elections itself. Persaud, however, reiterated that Gecom must first be instructed by the local government minister.
As a result, the minister's refusal to name a date for local government elections is preventing Gecom from carrying out the public education he and other members of government have said is crucial to holding the elections.
When this was put to Whittaker yesterday during a Local Government Ministry press briefing, he told reporters that he did not know that his not deciding on a date for the elections was denying funds to Gecom for public education.
He said that public education is important and that both the ministry and Gecom had roles to play in the process. He also said that the ministry has several programmes through which it is enhancing public education, including public engagements, one of which he said was recently held in Houston.
Gecom has stated that it can hold local government elections as soon as six months from the date given by the minister. The Local Authorities (Elections Amendment) Bill passed earlier this year stipulates that local government elections be held by or before August 1, but all indications suggest this will not be possible.
When former local government minister Ganga Persaud took the amendment to the National Assembly earlier this year, his intention was to suspend local government elections until December 1 or a date before. The main opposition APNU, however, was successful in its bid to amend the date to August 1. The Amendment Bill was passed on February 10, which would have left Gecom with less than the required six months to make the necessary preparations.
One Gecom official said that if APNU had consulted the agency before deciding on a date, it would have been informed that August 1 was too soon.
Government has been under pressure from various sections of the domestic and international community to hold local government elections. Government, however, has not budged on its position.
Meanwhile, Whittaker revealed that not much progress has been made towards the establishment of the Local Government Commission. The political parties are supposed to identify their nominees to the commission but this process has not seen much progress.
APNU Shadow Local Government Minister Ronald Bulkan yesterday told this newspaper that the main opposition has been looking at possible people to represent it on the commission but is yet to make a decision in this regard.
The PPP/C has also not identified its nominees.
Whittaker said that other factors being considered are the commission's staff, housing and its modus operandi, none of which has been finalized. How-ever, he added that the full works will be ready by the time local government elections are called.
Asked if Guyanese can expect local government elections this year, the minister was non-committal. He said the elections will be held as soon as possible. This was the same response he gave to reporters when asked when preparations for the setting up of the Local Govern-ment Commission will be completed.
Around the Web