– wife, 9 children homeless

A man is currently on the run after he reportedly lit his house on fire following an argument with his wife in Port Kaituma on Mother's Day, leaving his wife and nine children homeless.
It is suspected that the alleged arsonist has left the Port Kaituma area and journeyed on to Baramita.
According to reports, Eausca Smith, a 49-year-old mechanic, lit his home on fire after a daylong argument with his wife but luckily at the time of the fire, the couple's nine children were not in the house.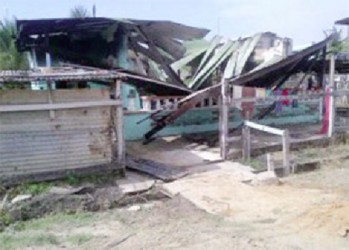 According to a neighbour, Smith went to her shop and asked to borrow a lighter. Five minutes after, the woman said, they saw fire at the house.
Speaking with Stabroek News, Evelyn Williams aka 'Rasta Evelyn', 42, said that the argument between her and her husband, whom she said would normally physically and verbally abuse her started around 1 pm on Sunday.
The woman said that on Friday, she had asked her husband to go and hang out with her friends on Mother's Day and Smith agreed that she should. On Sunday morning, Williams said, a customer took a truck for Smith to look after and at around 11 am he took the truck for a test drive.
"After he left, I kept calling him and he wouldn't answer his phone and then around 1 pm he came and started cussing me," Williams related.
After a heated argument, Williams said, her husband left the home and it was at this point, she said, she left the house with all of her children and went to a friend's house. She said she was afraid because her husband was intoxicated and he was often unpredictable when he consumed alcohol.
"When he is high, he hits me," Williams said. "One time he threatened to chop off my head and I took him to court and he was placed on a two-year bond."
The woman said that later in the afternoon, she left her friend's home and went back to her home with her children in order for everyone to take showers and return to her friend's house, since her friend had promised her to keep her children for the night until Smith calmed down.
Williams said she was on her way back to the friend's house, when she had a confrontation with her husband. She said that as her husband cursed her on the road, she saw an off-duty police officer and she made a complaint to the woman.
As she spoke to the officer, Williams said her husband continued cursing and insulting her.
She added that he was arrested by the police officer, but he broke loose, ran away and continued to curse her.
Williams said she took her children to her friend's house and went to a shop to hang out with a few of her female friends, including the police officer.
Smith, soon turned up, Williams said and continued tormenting her.
Williams said she decided to go to the police station and make a report and it was while she was at the station that some passed by and told her that her home was in flames. This was about 11 pm.
"When I reach home I saw a big blaze and the neighbours were trying to put out the fire," Williams recounted.
One of her neighbours said that, the villagers came out and filled buckets of water and put out the fire, which prevented it from spreading to her home.
Williams said at present she is staying at her sister's home.
She said she is a religious person and is not fearful for her life, but she is concerned about her children, since Smith had threatened to kill her children many times.
Around the Web