What should have been a celebration of his friend's nuptials became a bloody affair for Donald Grovesnor, when he was chopped by another guest with a cutlass on Sunday night.
Grovesnor, 20, who was discharged from the hospital yesterday morning, was still bloodied and recovering from what he described as an unwarranted attack.
Grovesnor told Stabroek News that he was enjoying himself at the wedding of his friend at Sideline Dam, West Bank Demerara when a man stepped on his foot. He related that he was upset and he reprimanded the man before leaving to go buy beer.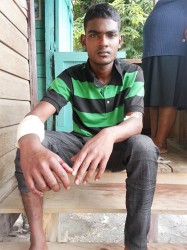 According to Grovesnor, when he returned to the spot where he was liming the man had a cutlass in his hand. Out of fright, Grovesnor raised his hands in front of him in a defensive position and as a result he was hacked by the cutlass. Instead of waiting to be injured again, Grovesnor ran to the police station a corner away to report the matter.
However, before he could give a proper statement, he said he "black out."
When he regained consciousness shortly after, he said, he heard the policemen say that they were unable to find an ambulance. He lamented that even though there were police vehicles available, they refused to take him to the hospital and as a result his friends were the ones who took him to West Demerara Regional Hospital.
"Me see a whole set of blood in front the station," a resident of the community said. She said that even though she didn't know exactly what happened, she did see a commotion at the station around 11 pm on Sunday.
When questioned about the identity of the assailant, Grovesnor said that he did not know the man personally, but he did know that he was referred to as 'Wazim' in the neighbourhood.
However, when Grovesnor returned to the police station yesterday afternoon, he was told that his alleged assailant had in fact filed a criminal complaint against him. He was told that the police will need to conduct an investigation to ascertain the exact nature of the assault.
Around the Web