-urges small farmers to plant non-traditional crops 
The Agriculture Ministry reaped its first crop of carrots and beets from a joint undertaking by the Guyana School of Agriculture (GSA) and the National Agricultural Research and Extension Institute (NAREI) and called on small farmers to cultivate non-traditional crops at a commercial scale to boost their investment returns.
The demonstration plots were cultivated as part of the ministry's diversification programme aimed at reducing Guyana's food import bill, a press release from the ministry said. Currently Guyana imports about $200M worth of carrots and beets per annum which the ministry hopes to bring to an end by 2020.
Recently, Minister, Dr Leslie Ramsammy called on countries within the Region to emulate Guyana's achievements in agriculture. He also committed to ensuring that the sector continued to implement other initiatives aimed at advancing new crops for cultivation. The ministry works with the GSA and NAREI to advance the sector through research and expertise sharing and has cultivated a number of non-traditional crops, all of which, to date, have been successful. In addition to carrots and beets, the two agencies also plant garlic, turmeric, ginger, chick peas and English potatoes.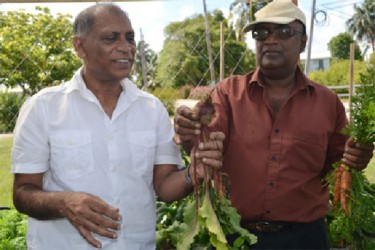 At the function, Farm Manager and Lecturer at the GSA Bissessar Chintamani underscored the importance of growing non-traditional crops. He called on farmers to tap into pilot projects noting that through assistance from the GSA and NAREI, Guyana can produce these commodities on a large scale basis.
"…We have not encountered any major agronomic problems. The varieties tested have had great success in terms of yield but we are yet to test other varieties…this programme will go a far way in addressing commercial agriculture as it has since been proven feasible," he said. The demonstration plots of carrots at the GSA and NAREI were cultivated in February, the ministry said.
Dr Oudho Homenauth, NAREI's Chief Executive Officer, said that while the traditional sectors have been the backbone of Guyana's economy, introducing non-traditional crops could significantly boost small farmers' investment returns.
According to Dr Ramsammy, the ministry has augmented its extension services programme to include training of farmers/residents and extension officers, the development of Farmers Manuals for technical assistance and the completion of its Vision 20/20 strategy which serves as a model for the sector with a view to channelling substantial amounts of resources to farmers in order to advance the sector.
Around the Web