The US Embassy says that Amerindian leaders in regions Nine and Ten raised the expanding tourism industry and how to capitalize on the potential for both regions to attract visitors in accord with community values.
From April 7-12 Deputy Chief of Mission Bryan Hunt and Economic Officer Jeff Barrus travelled more than 1,500 kilometres to visit indigenous communities from Fairview in the Iwokrama forest to Katoonarib in the South Rupununi, for a reconnaissance of the areas with a view to providing developmental assistance, the embassy said in a press release.
In speaking with Amerindian leaders, Hunt reinforced the US's commitment to the development of the indigenous people and listened to their concerns about natural resources management, climate change, land titling, social issues and wildlife protection. A key area of common interest was the burgeoning tourism industry and how best to capitalize on the potential for both areas to attract visitors.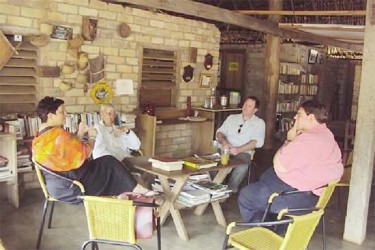 The team also assessed the impact of previous US government assistance to communities in these regions and saw the benefits of the said assistance in various ways, from a Bedford truck transporting guests to Surama to a rooftop solar system providing electricity to the Karanambu Trust and Lodge.
"USAID did some wonderful work in this part of Guyana several years ago and the opportunities they created for these Amerindian communities can still be seen today," Hunt said. He handed out wildlife protection calendars created by the embassy to several villagers and urged them to reduce deforestation. Hunt also reiterated the US Government's support for Guyana's Low Carbon Development Strategy.
Around the Web