-held after months on the run
After being on the run for months, a man accused of disfiguring his former partner by dousing her with a corrosive substance was yesterday remanded to prison.
Jermaine King, 38, of 35 East Ruimveldt had evaded police capture since November after he allegedly doused his then-girlfriend, Anchinalu Canning, in front of her D'urban Street home.
Yesterday, before Chief Magistrate Priya Sewnarine-Beharry at the Georgetown Magistrates' Courts, King, a miner and father of three, was charged with grievously wounding the woman with intent to commit murder. According to Prosecutor Gordon Mansfield, on November 16th, 2013, Canning had been coming out of her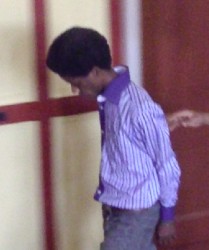 house when she was approached by King. The man had requested to speak with the woman and she obliged and followed him to his car. However, instead of talking, King removed a container and threw its contents on his partner. He quickly fled the scene and managed to avoid apprehension until May 12.
Prosecutor Mansfield objected to bail and stated that the defendant was a flight risk. "The accused was obviously avoiding apprehension," he told the court.
However, King's attorney refuted the claim and emphasised that her client was not a flight risk. King, she said, was willing to lodge his passports and any other travel documents.
Canning, who was present during the court proceedings, bore obvious signs of disfigurement to her face, arms and her chest.
Magistrate Sewnarine-Beharry ordered Prosecutor Mansfield to send the case file for advice and return in two weeks' time. King, meanwhile, was ordered remanded until May 28.
Around the Web