-as National Assembly gets ICT boost
With the Information Communication Technology (ICT) advancement of the National Assembly, Canadian High Commissioner Nicole Giles yesterday said she hoped women will get more involved in Guyana's political decision-making processes.
"I hope that more women will be empowered to take part in the democratic processes that govern their lives. It is not necessary to take on a political career to get involved," Giles said yesterday as the Assembly launched its newly revamped website, its Paperless Parliament Pilot Project and the live streaming of all National Assembly sittings.
Giles noted that women are still disproportionally unrepresented in Parliaments worldwide and face significant challenges in the political field. In speaking about the ICT enhancement of Guyana's National Assembly, Giles said the establishment of live streaming from the National Assembly to a dedicated website which will be accessible to all Guyanese makes a tangible contribution to Guyana's ongoing effort for a better government and stronger communities and more engaged citizens.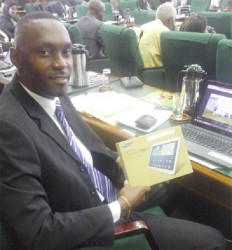 "It will help to broaden and extend Guyana's political discourse on national policies and will also encourage heightened flow of participation, including by women," she said, while adding that Canada is honoured to have officially handed over the project to the Government of Guyana.
She explained that in a democratic country, communication between Parliament and its citizens is a challenge and she added that citizens are often disengaged from Parliamentary debates and view Parliamentary debates as having no impact on their personal lives. However, she noted that decision-making processes carried out by a Parliament affect the lives of every citizen profoundly. Giles said that by making parliamentary information more accessible, citizens will become more interested in parliamentary debates and decision-making since Guyanese and the diaspora around the world will be given a "live, ringside seat" to the decisions that affect them.
She further stated that it gives equal access to Guyanese regardless of democratic location, gender and background.
Parliament Office has said that the multimillion-dollar initiative to stream all sittings of the National Assembly is the fruit of a partnership between the Parliament Office and the Canadian Government through the Canada Fund for Local Initiatives. In February, the Office had signed a Memorandum of Understanding which saw the Canadian Government providing for the funding of this project.
Speaker Raphael Trotman said the new and improved website is the unveiling of work that has been ongoing for many months. "At the commencement of our Tenth Parliament, one of our goals was to bring the Assembly closer to the people and remove the … mystery and untouchability," he explained.
He said the intention of the Parliament, along with the public's support and involvement, is to move the National Assembly and democracy in general into an era of enlightenment.
Outlining the three steps taken thus far to improve ICT delivery of the National Assembly, he said the first stage is the development of the website thus making it more informative, accessible and interactive. The second stage, he said, is the live streaming project, which will run concurrently with the website development so that people throughout Guyana and diaspora can see live what is happening in the Chambers.
The third initiative is placing tools in the hand of the members of Parliament and Parliament staff. "It is my hope that every member would have a tablet or laptop of his/her choice," Trotman said.
Visitors to the website, www.parliament.gov.gy, will find that it currently indicates that an upgrade is underway. Trotman said Parliament Office hopes to have a truly flamboyant launch of the site, which will offer live streaming, a media centre, a searchable database of legislative acts, committee reports, subsidiary legislation, legislative acts, minutes of the National Assembly and other parliamentary documents, by the next six months.
Meanwhile, Deputy Resident Represen-tative of the UNDP Chisa Mikami said UNDP had been working with the Speaker of the National Assembly and staff of Parliament office to improve the website in keeping with the Parliament's quest to become a paperless Parliament.
"In 2013, we commenced a process led by the Parliament to improve the website to design and upgrade the website and to carry out enhanced functionality and usage by MPs and Parliament Office staff. Also, to prepare a manual and train a Parliament web team on technical details of upgraded website; to develop and install programmes for easy access to information to internal and external users and to upgrade new web content and install live streaming, audio/video features, SMS and email messages to be used by MP's and Parliament staff," Mikami explained.
She added that the new website sought to improve management and simplifying the publishing process for internal staff.
She added that a new enhanced management system has been put in place to facilitate the publishing and organisation of parliamentary documents, reports, notice papers, and order papers, etc.
The new website will make it easier to find information and is a cost effective means for the Parliament to interact to the public, Mikami said.
In addition, several pieces of equipment were made available to the National Assembly, including 15 Samsung galaxy tablets, a desktop computer and laptop computer, at a total cost of $16.6M. Mikami yesterday presented Samsung Galaxy tablets to MPs taking part in the paperless pilot project.
Around the Web