The body of an elderly remigrant was early yesterday morning discovered in a drain on Mandela Avenue in the vicinity of Meadow Brook Drive and it is believed that he drowned after falling off a bridge while in a drunken haze.
Dead is 64-year-old Victor Forde of Lot 227 Lodge Housing Scheme. There were no marks of violence on his body and all of his valuables were found on his person. His bicycle was also found a short distance away.
According to his niece-in-law Floretta Bayley, Forde would normally leave home in the afternoons to "tek 2 shots.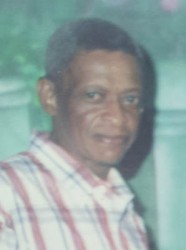 "Yesterday [Friday] afternoon he left after 5 and minutes to 2 this morning [Saturday] a stranger came calling and he asked me if Victor Forde live here."
Bayley said she replied in the affirmative and the man told her that Forde had just fallen overboard. "My husband, who is his nephew, go to the scene and at first they didn't see anything and they left and went to the station.
"After they didn't find him last night they went back in the morning after 7 and they find his body," the woman said.
Bayley described Forde as someone who was always willing to lend a helping hand.
Forde leaves to mourn nine children who all reside overseas and five siblings.
He had returned to Guyana some four years ago from the United States.
His body is at the Lyken Funeral Parlour.
Around the Web