As part of its mental health programme launched earlier this year, the Guyana Foundation is hosting Serena Coultress, a researcher from Maastricht University in the Netherlands.
A release from the Foundation said that Coultress arrived in Guyana last week and will be conducting research into the local suicide epidemic. Her findings will be used for a Master's in Global Health at Maastricht University, and will inform upcoming mental health projects conducted by the Guyana Foundation. It will also be made available to local stakeholders in the mental health sector.
Coultress will be meeting with, and conducting interviews with mental health professionals, social workers, representatives of local NGOs, religious leaders, and members of the community who have been affected by suicide.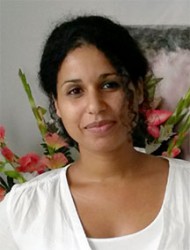 Coultress was quoted by the press release as saying "mental health is a topic I feel passionately about, so when I became aware of the high levels of suicide in Guyana I was compelled to travel here. I was fortunate to make contact with the Guyana Foundation who are not only hosting me, but will no doubt make good use of the findings. Ultimately, I hope my research will help the community to understand the underlying factors behind the high suicide prevalence in Guyana."
Members of the public who would like to be a part of the research study may request to participate by contacting 225-4414, or 693-6825, the release said.
Around the Web