– after prisoners breakout from city court lock-ups
An escaped prisoner was shot dead during an armed exchange with police at Fort Wellington, West Coast Berbice last evening, just over six hours after he and three others staged a daring breakout from a holding cell at the city magistrates' courts.
Murder accused Vickram Persaud, called 'Lil John', 28, of Doctor Dam, La Grange, West Bank Demerara, was fatally shot during "an armed confrontation" with the police at about 7.20 pm, the force said in a statement last night.
Persaud, was charged last year with gunning down policeman Michael Cumberbatch at his North Sophia home.
Up to press time, two of the men who escaped with him, armed robbery accused Randolph Marks, 20, and armed robbery accused Keron Cummings, 26, remained at large. Wanted bulletins were issued for them. The fourth escapee, murder accused Steve Bacchus, who broke out with the men from the lock-ups at the Georgetown Magistrates' Courts complex, was recaptured in nearby Hadfield Street after fleeing the Avenue of the Republic compound.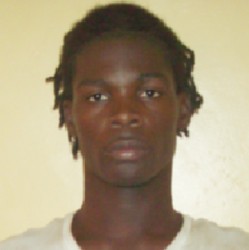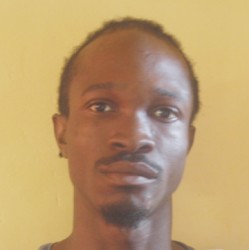 Although it was believed that the men were not armed, police said an unlicensed .38 revolver was recovered after Persaud was killed.
Persaud's location at the time of his death supported suspicions that the escape was well-coordinated and that the men may have had outside help.
The police had earlier said that the breakout occurred at about 12.45 pm. According to the official statement, the four prisoners, who were among others in the lock-ups at the Georgetown Magistrates' Court, waiting to be taken before a magistrate, broke out and escaped after damaging the grill and woodwork.
It is believed that the four men broke free through a mesh-covered window, on the western side of the holding cell for remanded prisoners. They placed clothing on the rigid opening and subsequently scaled a six-foot tall barbwire fence, and ran through an alley to their freedom.
Crime Chief Leslie James told Stabroek News that based on preliminary investigations, the four prisoners escaped from the temporary holding area by removing the grill work. He further mentioned that from all indications they were unarmed. He said road blocks had been set up in an attempt to apprehend the men and police ranks were actively looking for them.
During his arraignment last year, Persaud, then said to be a farmer, had accused police officers of torturing him in an attempt to force a confession out of him. He had told the court that he was beaten and shocked repeatedly and held out his bloodstained vest, saying police officers changed his clothing in order to get rid of the bloodstains. Persaud added that he had marks and bruises on his legs and volunteered to remove his pants to display the marks from injuries he received.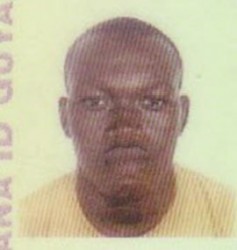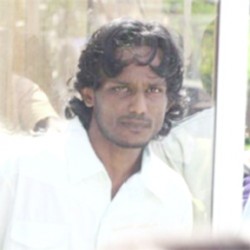 Then crime chief Seelall Persaud said the suspect had confessed to the crime and was identified in an identification parade but the accused denied having any knowledge of the crime.
It was alleged that on the night of September 23, 2013, at North Sophia Squatting Area, Persaud shot and killed Cumberbatch with a handgun at his North Sophia Squatting Area home. According to the police, the perpetrator was inquiring about someone named "Quacy" at Cumberbatch's residence and an argument ensued, during which the policeman was shot to his chest. The suspect, Sophia residents had said, was in the area most of the day making inquiries before the fatal confrontation.
Marks is one of the two men who were charged last month with the murder of Patsan Trading salesman Bharrat Ramcharan, who was shot dead during an armed robbery.
Ramcharan, 57, had been returning to the business's office with millions of dollars in cash when he was accosted by two men on a motorcycle on April 24. He was reportedly gunned down after refusing to hand over the money to the robbers.
Attorney James Bond, who represented both Marks and his co-accused Kevin France at his arraignment last month, said the men's constitutional rights had been violated. In Marks' case, the lawyer claimed that the man had been the victim of a "rigged" identification parade. "There were gross irregularities in the conducting of the ID parade," Bond said. He also claimed that Marks had been beaten by officers.
Cummings, 24, of 1189 'C' Field Sophia, was hit with 12 charges in March, for varying crimes that he allegedly committed between December 21, 2013 and March 14, 2014. His alleged crimes included the robbery of former assistant commissioner of police Clinton Conway and his family of more than half a million dollars in articles.
He was also accused of the December 31, 2013 burglary of Loraine Adams's 'A' Field, Sophia, home, in which nearly $2.7 million in items were stolen; the February 20, Lamaha Park home invasion, in which $520,000 in items were stolen from a family; and two car-jackings in March, 2014.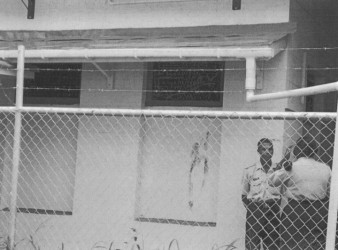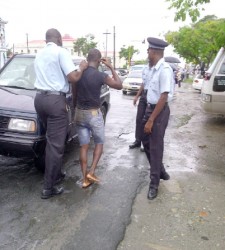 Police said Cummings was eventually arrested after he was shot by police during a stakeout in 'C' Field, Sophia, where he was allegedly attempting to rob two women. He reportedly fired at police and was hit during the return of fire.
When given an opportunity to plead, Cummings denied all of the charges laid against him.
Meanwhile, Bacchus was charged in February with the January 24 murder of Police Constable Quincy Wright, who was shot dead at the home of his girlfriend.
Bacchus was also charged with the attempted murder of Mortimer Maynard, a security guard attached to the Strategic Actions Security Limited and the theft of a firearm along with live rounds of ammunition from another security guard attached to the same company.
According to the police's case, Bacchus' alleged crimes were committed within a day of each other. Prosecutor Michael Grant had told the court that on January 23, in Sophia, Maynard and Trevor Fraser were performing their security duties when Bacchus, along with three others, held onto Fraser and relieved him of his loaded pistol. During the robbery, Maynard was shot. Bacchus and his accomplices then fled the scene of the crime.
The following evening, Grant said, the now-deceased Wright was at a home in Guyhoc Park when the accused went there asking to see Alicia Adams, the girlfriend of the deceased. At the time, Wright was in the yard when Bacchus approached him and looked him in his face. Grant said an argument ensued between the two men, during which Bacchus pulled out a firearm and discharged it at Wright. He then made good his escape. Wright was pronounced dead on arrival at the Georgetown Public Hospital.
Around the Web