– programmes in other Chinese disciplines
Guyana citizens can now learn to read, speak and write in Mandarin, as well as shadow boxing (Tai Chi) and to understand Chinese culture thanks the commencement of such courses at the recently established University of Guyana Confucius Institute (UGCI).
The institute, the product of an agreement between the University of Guyana and Dailan University of Foreign Languages in China, was inaugurated last evening although basic yet comprehensive classes in Tai Chi, a certified language programme in Mandarin, and classes in Chinese culture commenced on March 24.
Currently, students enrolled in the Language course are being taught to listen, write, and speak Mandarin. Those enrolled are required to attend four hours of classes per week – two hours each on Tuesday and Thursday from 14:15 hrs to 16:15 hrs, or on Saturday from 9:00 hrs to 11:00 hrs. Tai Chi classes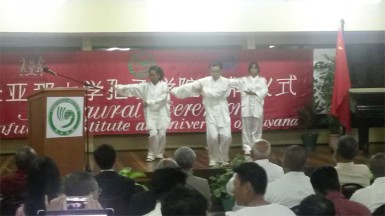 on the other hand are on Tuesday or on Saturday from 9:00 hrs under the Education Building.
In attendance at the inaugural ceremony last evening were several persons who were instrumental to the institute's establishment, and others who are crucial to its current operations. A sizable portion of the local Chinese community also turned up to witness the birth of the first such institution in Guyana.
The likes of Al Creighton, the institute's local Director (there is another from China); President Donald Ramotar; UG Vice Chancellor Jacob Opadeyi; Prime Minister Samuel Hinds; Zhang Limin, the Chinese Ambassador to Guyana, and several members of the Chinese business community were thrilled by some of the institute's students who demonstrated some of what they have learned so far.
UG and UGCI student Crystal Crawford introduced herself relatively fluently in Mandarin before performing her rendition of "Zui Xan Min Zu Feng," a Chinese song, just as fluently. The crowd seemed surprised momentarily at Crawford's command of the language, and began to clap and sing along as she made her way through the lyrics. Members of the local Chinese community seemed particularly taken by Crawford's performance.
There was also a Tai Chi demonstration during which the instructor and two Guyanese students, including, Keiona Callaik, performed a routine.
According to Creighton, the idea to set up the institute was first floated in 2004 but lost steam due to various delays caused in part by concerns over UG's ability to furnish the resources necessary for the institute's operations. Credit for resuscitating the endeavour was given to Guyana's Ambassador to China David Dabydeen. Creighton said things began to move even faster when Opadeyi, who was instrumental in mobilising UG's service towards the institute, arrived at UG and took interest in it.
Also instrumental, Creighton said, were the proprietors of several Chinese-owned business, including Bai Shan Lin, New Thriving, and China Trading.
He said that there has been an unprecedented response to the programme, and that the institute is currently strapped to cater to all of its approximately 270 students. In addition to UG students, who will have the language programme as mandatory or an elective, course has been designed for the Guyana Immigration Authority, owing to the need for them to interact daily with the increasing number of Chinese nationals coming to Guyana.
Creighton also said that private firms have expressed interest in having their employees learn Mandarin, and better understand Chinese culture so as to position them to better relate to their increasing Chinese clientele.
The Chinese ambassador, as well as several others of last night's speakers, said that the institute will serve as a bridge between the two countries. He said that Chinese investors are increasingly finding Guyana an attractive destination for investment, while many Guyanese are opting to study, live and do business in China. In the light of these realities, he said, the understanding must, and will be enhanced via the institute.
The Confucius Institute at UG is a small part of a world-wide endeavour by the Chinese government to enhance the appreciation of Chinese language and culture across the world. As such, several such institutes have been established across the world, including in South America and the Caribbean. All these institutes are funded by the Chinese Government and run through Hanban/Confucius Institute Headquarters in China.
"As China's economy and exchanges with the world have seen rapid growth, there has also been a sharp increase in the world's demands for Chinese learning. Benefiting from the UK, France, Germany, and Spain's experience in promoting their national languages, China has begun its own exploration through establishing non-profit public institutions which aim to promote Chinese language and culture in foreign countries in 2004: these were given the name the Confucius Institute," a brochure on the joint venture reads.
Around the Web