The multimillionaire dollar roadway project for the improvement of the East Bank Demerara road has been stalled for almost 2 years and, according to a representative, the company is losing millions daily due to the delay.
According to Julian Archer, a representative of BK International, the project has been delayed almost since its commencement in 2011 despite its scheduled completion a year and a half ago.
A US$20 million loan was approved by the Inter-American Development Bank (IDB) in October 2010 for the East Bank Demerara road's improvement by expanding it between Providence and Diamond from two to four lanes, and by providing parking lanes, bus stops, crossings for pedestrians, and bicycle lanes.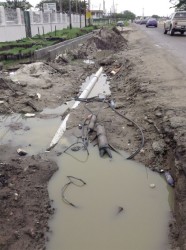 Three contractors, Gaico Construction, Dipcon Engineering Ser-vices and BK Inter- national, were awarded contracts to perform work on assigned lots. BK was awarded lot 3 at a total of US$3.4 million and was tasked with upgrading the existing roadway and widening the road. The road works were scheduled to extend for 1.2km from the 'high-bridge' at Demerara Distillers Limited (DDL) to Diamond/Grove.
However, Archer explained that the company has experienced numerous problems with the removal of utility infrastructure by both the Guyana Water Incorpora-ted (GWI) and the Guyana Telephone & Telegraph Company (GT&T).
Both companies were notified about the issue, Archer said, but to date only GWI has responded and has removed its infrastructure.
Despite numerous requests, Archer said, "to date, nothing has been moved by GT&T, which hinders our critical activities…we have to wait until GT&T removes their cables [to continue work]," Archer pointed out.
According to the representative, the company was losing about US$10,000 daily while work on the 'high bridge' cannot be done because of the poles and cables alongside it.
The bridge is planned to be constructed in three phases beginning with its western end followed by its eastern end and finally the demolition of its centre, Archer said.
Archer also stated that a contract was supposed to be signed between the government and GT&T for the removal of the telephone company's cables. However, he was unable to say when that was likely to be. Before the project's commencement in 2011, there had been promises that the cables would be removed to facilitate roadwork.
Around the Web