Hosea Barker, a father of five, was yesterday charged with snatching a $160,000 cricket band and a city court heard that he was nabbed after the victim ran after him.
Barker, 30, of 3G Middleton Street, Campbellville appeared before Magistrate Faith McGusty at the Georgetown Magistrates' Courts to answer to a larceny from the person charge. The man was accused of robbing Mervin Mohammed on May 19 at Croal Street of the gold cricket band.
It is the police's case that on the date in question, Mohammed had been walking along Croal Street when the defendant walked up to him and snatched the band before running off. Barker was chased by Mohammed and was subsequently apprehended and the band was recovered on him, the police contend.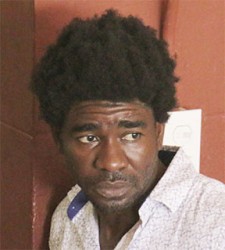 Attorney Adrian Thompson represented Barker and requested reasonable bail for the mason. According to Thompson, his client had no pending matters and was innocent of the accused crime.
Prosecutor Seon Blackman strongly objected to bail and cited the prevalence of the offence as his reason.
Blackman also emphasised the necessity for citizenry's comfort. "A citizen of Guyana should feel free and safe to walk the streets," Blackman pointed out.
In reply, Thompson assured the court that Barker would willingly return for trial. Thompson also noted that the item was recovered and offered to have his client adhere to any conditions laid by the court.
Hence, Barker was granted $100,000 bail on the condition that he lodge his passport and report to the Brickdam Police Station every Friday at 9am.
Prosecutor Blackman requested three weeks for the filing of statements. As a result, Barker will make his next appearance on June 16 for statements.
Around the Web