An East La Penitence teen, accused of robbing a trainee policeman and a woman at knife-point on the seawall, was placed on bail yesterday when he appeared before a city Magistrate.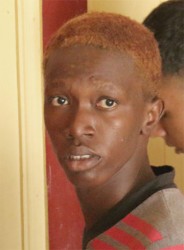 Junior McLennan, 18, denied that he along with four others, on April 20, at the Kitty seawall, robbed Jamal Marks of a LG smartphone valued at $23,000, a $1,300 Puma bag and another article valued at $2,000.
An unrepresented Marks further denied that he, on the same occasion, robbed Ashanti Best of a $10,000 Nokia cellular phone and $3,000 cash.
It is the prosecution's case that McLennan and his cohorts, armed with knives, approached the victims at the seawall and relieved them of the mentioned articles before making good their escape.
He was remanded to prison by Chief Magistrate Priya Sewnarine-Beharry, after she upheld Police Prosecutor Bharat Mangru's objections. Mangru cited the seriousness and prevalence of the crime, as well as the likelihood the defendant may not show up to answer the charge.
The Chief Magistrate later transferred the matter to Court two of the Georgetown Magistrates' Courts, where McLennan's lawyer Clyde Forde made a successful bail application, in spite of the objections of Police Prosecutor Deniro Jones, who reiterated the seriousness of the offence and the likelihood that the defendant may not appear to answer the charge. Magistrate Ann McLennan granted the defendant $40,000 bail on each charge with the condition that he report to the Station Sergeant at the East La Penitence Police Station every Friday.
The case will be called again on June 5th.
Around the Web