Minister of Foreign Affairs Carolyn Rodrigues-Birkett called on Caricom member states to optimise their "14 voices" and focus on joint diplomatic representation during foreign policy negotiations, in her address at the opening ceremony of the 17th Meeting of the Council for Foreign and Community Relations (COFCOR).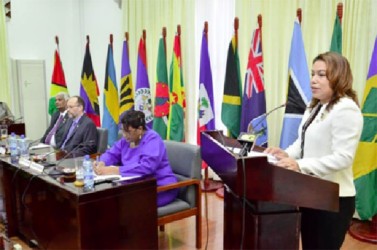 The COFCOR comes at a time when Caricom is undertaking an introspection of how to strengthen systems and processes in the integration movement, she said at the opening ceremony held on Tuesday at the Guyana International Conference Centre. The minister also noted that key to this development is a strategic plan that will focus on areas that the Community should give priority as it seeks to maximise its human and financial resources.
At the level of the Council for Foreign and Community Relations, the Community has had to be aware and prepared to respond to changes on the international scene that would consequently require a repositioning of our policies. This has therefore been a central issue at several meetings, the minister said, according to a Communique from the Caricom Secretariat.
Foreign policy
Foreign policy coordination has been roundly criticised within the borders of member states and more so from those who seek the creation of a stronger, more interdependent community of nation states, Rodrigues-Birkett said. However, she noted, "It must be clear that coordination is not necessarily unanimity of positions even though one may question what was the objective in the first instance if this is the case."
The minister asserted that while there will be instances where member states will have divergent positions they must persevere to maximise "our 14 voices and 14 votes. We must be prepared at times, to sacrifice short term individual gains in order for the overall region to benefit on the longer term." While there has been progress, much more is still to be done, she asserted.
The Minister's statement comes in the wake of an embarrassing divergence within Caricom on a UN General Assembly resolution in March which declared Crimea's Russian-backed referendum on secession from Ukraine as invalid.
While Guyana and several other Caricom countries including St Lucia, St Vincent and Antigua abstained, Barbados, The Bahamas, Trinidad and Tobago and Haiti voted for the resolution. Sources say the split vote again highlighted Caricom's inability to vote as a bloc on important but straightforward matters such as the Crimean issue where there had been broad international consternation at the aggression against Ukrainian forces in Crimea and the mobilizing of Russian forces on Kiev's eastern frontier. Guyana's abstention was also peculiar as its various border issues required a firm stance on the use of force.
According to the minister on Tuesday, member states have been tasked by their Heads of Government to put more focus on joint diplomatic representation, an issue that had once been on the front burner of their agendas. "If developed countries – with much more human and financial resources than we have – can pursue with each other shared space of diplomatic premises or, as in the case of the Pacific Alliance countries, establish measures in the area of consular assistance to benefit their nationals, then our small Community of nations must recognize the merit of adopting either these or similar options and of course we will be examining this in detail," she said.
Trade
Member states, at varying levels, have continued to take steps to implement the Economic Partnership Agreement (EPA) with Europe. This has proven to be a demanding task for small developing economies in the Region even as the Caribbean has remained on course as the only ACP sub-region to successfully conclude the negotiation with Europe on schedule in 2007 and is the only one to do so to date.
"No sooner was the ink dried that we find ourselves being graduated to "more developed country'' status to lose access to much needed development resources," she said, adding that the market access under the EPA presents many challenges for the Community's fledgling communities including tedious visa requirements.
With respect to the current negotiations with Canada for a Trade and Development Agreement, she said that the Region has shown immense flexibility and remains committed to achieving a successful conclusion. There has been scathing criticism of the region's efforts by a Canadian trade official.
The Community said it is also cognizant of the developments unfolding in the Middle East, Syria and the Ukraine and will discuss them.
Around the Web