A pork-knocker was remanded to prison on Tuesday after a city magistrate heard that he allegedly stabbed a co-worker in the neck in an attempt to regain a borrowed cellphone.
Kevin Thomas, 20, of Lot 46 Providence, East Bank Demerara, was brought before the Georgetown Magis-trates' Courts charged with grievously wounding Sadeek Mohamed with the intent to commit murder at Third Avenue, Bartica. The man was not required to plead when the charge was read to him by Chief Magistrate Priya Sewnarine-Beharry.
Thomas and Mohamed, it was said, are known to each other and work together in the interior. On May 16, Thomas gave the virtual complainant his cellphone to borrow. Two days later, at about 1am, Thomas approached Mohamed from behind at Third Avenue, Bartica and dealt him a stab wound to the left side of the neck,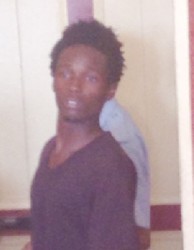 causing severe injuries. Thomas also dealt Mohamed several cuffs and kicks and stated that he wanted his cellphone back.
However, after Mohamed cried out for pain, Thomas realised that the victim could not move his right foot. The pork-knocker took Mohamed to the Bartica Hospital where the injured man was admitted. Thomas made good his escape soon afterwards.
He was subsequently arrested and reportedly admitted in a statement to the offence, according to the police's case. Prosecutor Bharat Mangru objected to bail and cited the seriousness and prevalence of the offence as his reasons.
He also opined that Thomas might not return to answer the charge due to the penalty the offence attracted. Mangru also pointed out that Mohamed was still hospitalised.
Representing the accused, attorney-at-law Peter Hugh requested reasonable bail and asked for a short report date. His client, he emphasised, was not accepting responsibility for the alleged crime.
Thomas will make his next appearance on May 27 for reports. Until then, he is remanded.
Around the Web