The Ministry of Culture and the Guyana Telephone & Telegraph Company (GT&T) signed a $10 million MoU yesterday to document Guyana's national collection housed at the Castellani House.
The $10 million contract, signed by Culture Minister Dr Frank Anthony and Radha Krishna Sharma, CEO of GT&T at Cara Lodge in Quamina Street, is a three-year project which will digitise the national collection to preserve Guyana's cultural heritage. Each year a special committee will be given $3.5 million to document 52 pieces of artwork. The first publication, The Panorama: A Portrait of Guyana, is expected to debut before the end of the year.
Members of the committee include Humanities and Education Faculty Dean Alim Hosein, acting Curator of Castellani House Ohene Koama and University of Guyana Lecturer Philbert Gajadhar.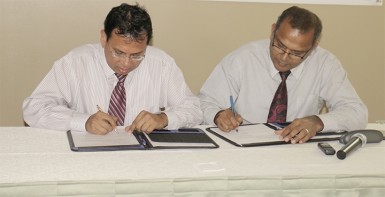 "Understand that this is a part of our legacy. If we publish this more people will see what we have in our collection and come out and see it in the gallery… If we don't write it up no one will come and write it for us," Anthony said, while stating that the collection showcased a long history with art.
Anthony noted that the collection featured renowned artists like Dudley Charles, Phillip Moore, Bernadette Persaud and George Simon. "We have a very long history with art and a lot of what they have done would remain in the gallery but this would bring the gallery to the people," he said.
He stated that the ministry was very grateful for GT&T's contribution, while noting that it came after years of discussions with other entities. He said GT&T took the initiative and the ministry was thankful.
Sharma said the MoU would affirm GT&T's commitment to the cultural artistic development of the country, and that it came as a bonus for the ministry since they were already digitising the National Archives.
Recently, GT&T had signed off a $60 million MoU with the University of Guyana to fund capital works, the provision of two megabytes of dedicated bandwidth, retooling and refurbishing of the computer laboratory, and several other projects over a three-year period.
At the signing, Sharma said the agreement represented the highest dollar-value commitment the company has made to any agency, adding that the contribution stemmed from the company's belief that supporting UG, Guyana's premier educational institution, should be priority.
Around the Web