Bilateral cooperation between the governments of Guyana and Argentina to improve tourism within the South American nations will soon begin its first phase following the launch of two projects yesterday.
At a small press conference, Minister of Tourism and Commerce Irfaan Ali lauded the two initiatives, aimed at tourism and the management of protected areas respectively, and deemed their benefits "resounding."
According to Argentina's Ambassador to Guyana Luis Alberto Martino, the first project will be implemented in three phases commencing early June.
The first phase, he said, will involve a visit to Argentina by two Guyana tourism experts. The visit will afford the experts with the opportunity to engage in week-long discussions with the Argentine government and to visit the interior of the country. The visits will be to strategic locations such as national parks and will afford the Guyanese the chance to share their knowledge, successes and practices in an attempt to develop capacities in areas such as product development and marketing, Martino said.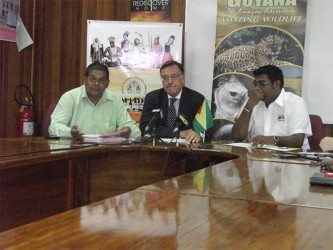 He further stated that the second phase will involve the contemplation of the development of an intensive Spanish course for the Guyanese visiting Argentina so that they can participate effectively at the third phase, the International Tourism Fair in late October. Translations of necessary promotional materials will also be provided.
The second project, the Protected Areas Commission Project, also comprises three phases; the first phase will be a visit to Argentina by two representatives of the Protected Areas Commission of Guyana to interact with counterparts in Argentina. During the second phase, Argentine officials will visit Guyana to provide technical assistance, and finally there will be a visit to Guyana from specialists in touristic management of protected areas from Argentina.
"This occasion demonstrates the further collaboration and partnership between Argentina and the Republic of Guyana in extending not only our friendship but our economic collaboration for the betterment of the people of our countries," Ali said.
The projects were conceptualized following a series of working meetings between Guyana and Argentina and are funded by financial support from the Argentina fund aimed at South-South relations.
Since 2013, the two nations have been working together to develop projects of technical cooperation with mutual benefits in areas such as tourism.
Around the Web