Princess Fun City yesterday celebrated its one year anniversary with the launch of two 3D Digital Movie Theatres, the first of their kind in Guyana.
Special invitees, including government officials and media practitioners were treated to free showings of the recently launched movies, 'Godzilla' and 'X-Men: Days of Future Past.'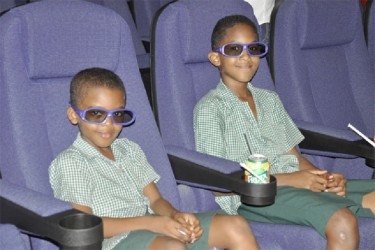 Executive Assistant at the company Natalie Seecharan noted the importance of the launch to Guyanese. "A lot of investors are focused on entertainment but they only focus on club and sports entertainment and not so much on the full family entertainment," Seecharan explained. "Princess saw the need for family entertainment and decided to provide the facility where a family can watch a movie and experience packed, family fun."
The theatre plays ten shows daily, ranging from Hollywood blockbusters to Bollywood movies. According to Seecharan, the 3D movie experience will deliver the ultimate movie experience to last a lifetime.
You're going to be amazed; these movies will give you a thrill. It's not just sitting there with images and pictures; this is experiencing another world.
This is technology on another level," she said. She continued, "It may be a drop in the ocean for the rest of the world but for Guyanese this is major."
Seecharan revealed that Princess has more events planned but chose to remain tightlipped on just what these events may be. However, she promised that they will be beneficial to Guyanese and will bring families together.
Around the Web