Nineteen-year-old Anastacia Latoya Crawford, who was allegedly caught trying to smuggle over seven kilogrammes of cocaine and cannabis on to a flight at the Ogle International Airport, was remanded to prison after she appeared before a city Magistrate yesterday.
Crawford, of 29 Fort Street, Kingston, denied that she had 2.286kg of cocaine and 5.575kg of cannabis in her possession for the purpose of trafficking on May 21, when the charges were read by the Chief Magistrate Priya Sewnarine-Beharry.
The Customs and Anti-Narcotics Unit (CANU) is alleging that Crawford, on the day in question, was an outgoing passenger to Barbados on a LIAT flight. According to CANU prosecutor Oswald Massiah, Crawford was carrying a suitcase and a haversack. He said the suitcase came up empty when a CANU officer on duty checked it. Massiah said it was in the haversack that officers discovered nine taped packets.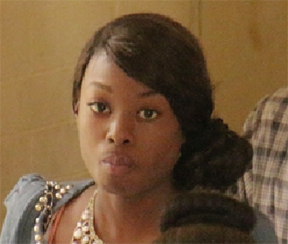 The CANU officer, Massiah added, punched one of the packets in Crawford's presence and found what he suspected to be cannabis. Crawford was informed of the suspicion and she was cautioned and remained silent but later burst into tears, he said.
She was subsequently escorted to CANU Headquarters, where the other eight packets were checked in her presence and they were found to have contained what was suspected to be cocaine.
Additionally, Massiah stated that the defendant said that she was promised US$15,000 by "Mark Polo." She was given an advance sum of $50,000 and was scheduled to receive the balance when she delivered the narcotics.
The Chief Magistrate transferred the case to the Sparendaam Magistrate's Court, where it will be called again on May 27th. Crawford was represented by attorney Euclin Gomes, in association with attorney George Thomas.
CANU, on Thursday, issued a wanted bulletin for Mark Mohabir, also known as "Mark" or "Polo," 33, of Cooper Street, Albouystown, in connection with the drug bust.Anyone with information on Mohabir's whereabouts can contact CANU on 227-3507.
Around the Web