Several weeks after 57-year-old Leslyn Thompson had her arm broken as a result of a physical assault allegedly by her employer's brother she is yet to receive justice, but has since been paid monies owed to her. Thompson worked for Vanessa De Costa as a cook and shop attendant at her business place in the Mazaruni backdam and was injured when the woman's brother allegedly lashed her with a drinks' case on April 30.
She was forced to leave the backdam in pain and the woman, who was not present during the assault but never enquired about the injury, paid her less than she was owed. Since then she has been fighting for justice. A report was made at the Bartica Police Station, but the man is said to be in hiding.
But Thompson said she was still grateful for the $25,500 paid to her by De Costa, which had been owed to her. De Costa had given her some gold to sell in lieu of cash, but she had calculated it at a higher price than Thompson managed to sell it for.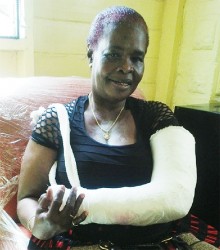 Early last week De Costa and other relatives visited the Brickdam office of the Guyana Women Miners Organisation (GWMO) and met its President Simona Broomes. And while she made several spurious statements against her employee, she opted to pay the woman the money owed.
Thompson was called to the office and the money was handed over and a receipt issued.
"I am still grateful that the GWMO managed to get the money for me because right then I had no money and I get rent to pay and I can't work," the mother of one said.
She still feels that De Costa should pay her for the hotel bills she would have incurred in Bartica while the police investigated the matter and the fact that she cannot work as a result of the injury. She pointed out that she was injured on the job but the Ministry of Labour has since indicated that she was not injured as a result of an industrial accident but rather an assault. She was told that once the matter goes to court and the man is found guilty then the presiding magistrate could order that he pay her for the time she was unable to work.
"I am just so frustrated because I am like a handicap…" the woman lamented while recalling that she was cuffed in the face by another brother and had to be rescued from another relative who was making sexual advances towards her while working at the said location.
Meantime, Broomes in an invited comment said that she was happy that Thompson managed to get the money she was owed. She said her organisation would be supporting the woman in her quest to get justice. She pointed out that too many women are taken advantage of in the interior and many are injured with no justice given.
Around the Web