Every time 28-year-old Donnis Brookes looks at her body, the many scars remind her of the years of abuse she endured at the hands of the man who had promised to love and cherish her. Today, 14 years after it all began, she wants her now ex-husband to quit stalking her; she just wants to live in peace.
She was 14 years old and still at school when she met him. At the time he would have been in his 20s. A relationship started which had nothing to do with love, but everything to do with the attention she received from him and the financial support she so desperately needed.
Brookes's tale of desperate financial circumstances back then is similar to many heard every day.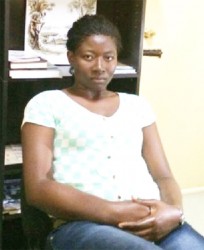 She was the eldest of five children living with a single-parent mother who tried but could not adequately provide for her children. Brookes did not know her father.
As she puts it, she was pushed into the relationship by circumstances and even by those around her. She knew something was seriously wrong when the man who said he loved her, beat her, cutting her in the process, mere months into the relationship.
Today, a mother of three, the eldest being 12 years old, Brookes is not afraid to tell her story and she insisted that it not be done anonymously because she has nothing to be ashamed of. Her hands are both scarred where she had been chopped by her then husband and there is a scar behind one of her ears, where he had punctured her neck with a carpentry nail.
Brookes also wants her story to be used as a lesson to other women and young girls. Even as she is crying out for justice, she also warns that it never ends if the woman remains in the relationship. She pointed out too that many women are being killed or seriously injured by the men of their dreams.
For her, it is not over yet because even though she is no longer married to the man—he divorced her five years ago so he wouldn't have to support her—he still threatens her whenever he sees her. He has said that he will kill her, her current partner and himself.
"He say how he get three coffin and is three people have to dead…" Brookes told the Sunday Stabroek.
"I don't go nowhere. When the children gone to school I lock up in the house because I frighten.
When I go on the road I have to always deh looking over me shoulder," she continued this time with tears rolling down her face.
She said there are over 50 domestic abuse reports at the Parika Police Station against her husband and those were the times she reported. There were many times she did not make the trek to the station.
Walking down the street
It is still difficult for Brookes to recall some of the instances when her ex-husband beat her or degraded her with his hurtful words.
She remembers the day they met. She had left school and was walking down a street in Parika when he saw her. He was building a boat at the time. He started to "friend" her and her mother knew of the relationship.
While the adults in her life at the time should take full responsibility for what happened to Brookes at that tender age she does not blame anyone, as she remembers how difficult life was at the time and how it felt like there was no other way out.
Just a few months into the relationship, she was accused of allowing a man to dance behind her while on a beach.
"He was with his friends and had no time with me and I was just standing with my friends and I don't know if a man was dancing behind me fuh true, dey had a lot of people on the beach. But he come to me and tell me leh he talk to me alone…"
Once they were alone, the man beat her badly and then broke a bottle and lunged at her neck. She barred with her hand. The scar is still there.
Brookes complained to her mother that night but the injury was dressed at home; no report was made to the police and the relationship continued.
She is not sure if she ever loved her abuser, after all what does a 14-year-old know about love. But she stayed with him because she believed that for her there was no alternative. She recalled that there was another man who showed an interest in her and after the beating and the way she was being treated, she wanted to leave for Berbice but her mother stopped her because she was "already friending with he [her ex-husband]."
She was just shy of her 16th birthday and pregnant when she married him and for her it was no happy day.
"He drink a lot and whenever he drink is always quarrelling and a beating for anything. Is like I couldn't do anything right. Is just so he stay and I couldn't take it but I had nowhere else to go," she said.
It did not matter whether she was pregnant or not, whenever he drank or felt she had committed an infraction he would beat her.
The abuse continued for many years. She would make reports and he would be arrested, but he was never convicted. She recalled him beating her one night in front of his mother and other relatives while a wake was being held for his departed stepfather; that's how bold he was.
One night, to prevent her from going out, he not only inflicted a beating on her but burnt all her clothes. Then, knowing that she had reported the matter, he left the area and travelled to Suriname where he remained for nine months. In that time, Brookes received $8,000 which he had sent to his mother.
"When he lef I had to do all kind a work for people just to send me children to school," Brookes said, adding that it was while she was working at a restaurant, where she was being underpaid and treated badly, that she met her current partner.
 His return
Just as he disappeared, the man reappeared suddenly. But he told Brookes he wanted "no story" and that he would live by himself and allow her to remain in the small two-bedroom house with the children.
"But I know he and I know he wouldn't leave me alone so [that] night after I finish feeding them child and put them to sleep with me brother, I left the house," she said.
Her intuition was right, during the night the man entered the house and when he did not find her, he created havoc. She recalled that she had started a small business selling beverages to persons on the many boats that docked behind her house.
"He went in the house and break up everything and my daughter say what he didn't throw on the ground, he bathe with it… And he tell she that she must tell me how much fuh dem thing and he would pay me…"
Brookes was on her way to report the matter when she was advised by a relative to take the money instead, since the man promised to repay her.
"But is sending she [the relative] did sending me to me dead…"
She approached him in the company of his uncle, who turned away to put down some bags and the man seized the opportunity to brutally attack her by first punching her to the face.
"I fall down on the ground and this man come at me and was trying to scratch out one of me eyes and the only thing I coulda do is turn over and bury my face in the sand," as she recalled this incident Brookes started to cry, the pain still evident on her face.
"While on the ground with sand in me mouth I feel like something pushing inside me neck behind me ears…"
Persons pulled him off her and as she got up Brookes realized that a nail was stuck in her neck. She sought medical attention was told that "the nail barely miss me vein."
The matter was reported and the man was arrested and charged and eventually convicted at the Vreed-en-Hoop Magistrate's Court, but never sentenced.
"…The magistrate tell me how she giving he a chance and sending he fuh counselling… I couldn't say anything but I don't know wah really happen because is not as though me and this man was living together and trying to work things out…"
 Summons
Eventually, Brookes said, she moved out of the house and she summoned the man for support for herself and children. Determined not to support her, he promptly started divorce proceedings, to which Brookes had no objections.
She is now living with someone else and he has had several other partners since.
"And is the same thing he doing the woman he with he beat she and break she hand and he was sentenced to one year in prison but he only serve six months. …She still living with he and he does beat she," the woman said.
But he would not leave Brookes alone and had even confronted her and her partner on one occasion, which resulted in all three of them being charged. He failed to attend court and the matters were eventually dismissed.
"But every time is a story. Every time he see me, he have something to say…," Brookes said. Just two weeks ago, she said, he showed her partner "a long knife and tell he it is fuh me and that three people have to dead."
Through the courts, he pays child support of $2,000 a week per child. She has attempted to have the money increased but has been told by the court that she has to seek the services of a lawyer.
"It is not easy because we live in the same village and I does really be scared for my life. I am like a prisoner because this man don't want leave me alone," Brookes said.
Her only wish is to live in peace and not have to worry about a "deranged" ex-husband who does not want her to have a life of her own.
Around the Web