An ex-policeman, recently cleared of an armed robbery charge, wants his job back.
Reinstatement, however, would only be possible following an investigation to prove that the former lawman did not cause any discredit to the Guyana Police Force (GPF).
"I want the public to know that I was innocent of the crime," Collin Harris, 20, told Stabroek News, while noting that he is hoping that he can be reinstated as a member of the GPF.
Harris and co-accused Kelvin Pollard were charged with robbing a Green Ice Taxi Service employee of $630,000 in a gun-point robbery last December. The joint charge against them was dismissed recently after four witnesses, including the virtual complainant, failed to show up and offer evidence in a city court.
But GPF Training Officer Senior Superin-tendent P. Williams told Stabroek News that even though the case was dismissed, the force would have to conduct an investigation into the matter and find that Harris did not act in a manner to cause discredit to the GPF. Furthermore, Williams said the reason for the witnesses not showing up would also have be investigated. "If it was a case where the court had exhausted all evidence presented," Williams said, Harris would have been reinstated straightaway.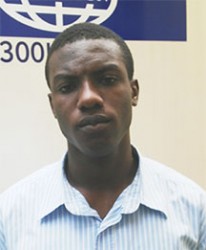 Williams further mentioned that the Chambers of the Director of Public Prosecutions would also have to advise in the matter before any decision is made.
Harris' mother Kim Harris said that she always knew that her son was innocent and said she was overjoyed that his name was cleared. "I know to my heart that he was not involved in that," she lamented, while noting that some mothers may try to protect their children even if they are guilty. She then insisted that her son was innocent.
According to Harris, on December 7, he was on his way to an ATM Machine on Mandela Avenue, when a Green Ice taxi swerved in front of a CG motorcycle that he and a friend were riding and they were forced into a nearby drain. He said he was then confronted by the driver, who was armed with a baseball bat.
Despite identifying himself as a lawman, Harris said the driver told him that he received word that he was involved in a robbery at the taxi service base. "I call my friend to come for me," Harris explained, adding that shortly after, two more taxis showed up and attempted to hit him down, forcing him to "run into a lady house" out of fear for his life. When that friend arrived, he said, they visited the East La Penitence Police Station, to lodge a report against the taxi drivers but he was told that he fit the description of the alleged armed robbers and placed into custody and subsequently slapped with the indictable charge.
Around the Web