At the launching on Tuesday of the first of two autobiographical volumes, business icon Dr Yesu Persaud stated that role models need to be in abundance throughout Guyana. He was critical of the political mindset that has been pervasive in Guyana since he was a child.
With Prime Minister Sam Hinds in the audience, Persaud, 85, stated that "we are poverty stricken because we are [being] led by our nose by politicians". Persaud, who retired last year as Executive Chairman of DDL after 48 years with the company, commented that his long friendship with Hinds was one where he could be critical.
Persaud recalled his struggles, highlighting that the lessons he learned along the way encouraged him to recount his life's story in his autobiography titled "Reaching for the Stars; The Life of Yesu Persaud Vol 1".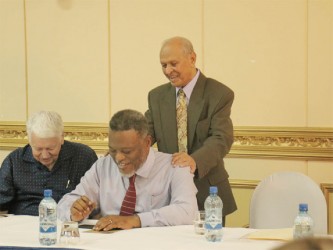 Author and newspaper columnist, Dr Ian Mc Donald, in his commentary on the book, called the reflections absorbing. He stated that he was given a draft of the autobiography and was at first unsure whether he would have the time required to review the book. When he began to read, he said he was unable to put it down.
"I found the memoir utterly compelling," Mc Donald stated, adding that the book delivered on the drama that was present during the height of the sugar industry. He called the memoir of Persaud's journey through career paths from the "logie to penthouse."
The commentaries of the memoir were steeped in the feeling that Persaud was speaking about his life with the intention of readers learning from his mistakes and realizing that with hard work accomplishments are within reach.
Professor Al Creighton said that the autobiography was seamless in its ability to recall the author's life events while teaching lessons along the way. He said there were times that Persaud's chaste persona became too much and the reader cheered when he showcased "devilish quirks."
The first volume of the book is an introduction to Persaud's life from his early childhood to his school days and ends in 1976 during his Chairmanship of the Demerara Group of Com-panies. The book's launch was held at the Pegasus Hotel with a diverse audience in attendance comprising academics, politicians, friends and employees of the author.
African Cultural and Development Association, Executive Director Dr Eric Phillips and David Dabydeen, Guyana's Resident Ambassador to China, were unable to attend but their messages were conveyed by Dr Paloma Mohamed and Major General Retired Joseph Singh respectively.
Around the Web