Global Youth Movement – Guyana on Wednesday donated over $500,000 worth of agriculture tools and equipment to seven secondary schools in Region Five at the launch of a $23M community health, environment and recycling project that will be implemented in the region over the next year.
Global Youth Movement – Guyana, a non-profit registered youth organisation, says it is the sole youth organisation that has received funding from the Global Environment Facility – Small Grants Programme which started last year, a press release from the group said. It has been in existence for three years and works with young people in various communities countrywide.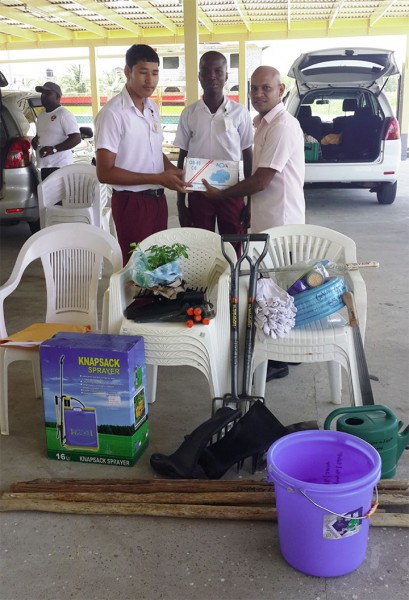 In giving an overview of the project, Executive Director of the group Mark Ross said   the objective is to address issues of improper disposal of PET plastics and the burning of solid waste, improper use, storage and management of chemicals, continued use of mercury in mining and jewellery production and the absence of skilled and trained personnel in these areas in the region.
The project will target schools and communities with a comprehensive public education campaign while implementing programmes to reduce, reuse and recycle PET plastics and other types of solid waste as well as providing training and other types of public engagement.
In his remarks, Region Five Chairman Bindraban Bisnauth commended the organisation and offered his administration's support to the project. He assured the group of a fruitful public-private partnership and asserted that his administration is cognizant of the importance of public education activities. The regional administration had started a similar exercise but had been impeded by a lack of funds and was eventually forced to bring it to a close.
Asma Sharief, a representative of the EPA/Ministry of Natural Resources and the Environment praised the group's efforts and pointed out that they complement the mandates of both agencies that she represents. She lauded the group for its comprehensive approach to addressing and dealing with environment issues.
After the introduction ceremony the agriculture items were presented to Zanah George, Head Teacher of the Bush Lot Secondary School. She promised that with the new equipment, the school's garden will thrive. The head teacher then appealed to the regional administration to have the garden fenced.
For more information about the project, or persons interested in becoming volunteers can contact the group at telephone numbers 621-2768 or 694-8004.
Around the Web