The Society Against Sex-ual Orientation Discrim-ination (SASOD) held its 5th International AIDS Candlelight Memorial on the steps of the St George's Cathedral on Sunday highlighting the need for stigma reduction.
The activity was held under the theme "Let's Keep the Light on HIV," and Managing Director of SASOD Joel Simpson acknowledged that getting members of the communities to participate in large numbers continues to be a challenge.
Speaking at the event activist Desiree Edghill stated that the stigma attached to HIV/AIDS has a far way to go. She recalled that in 1994 when one of the first candlelight vigils was held "people were hiding and peeping to see who were lighting candles so they would know who had HIV in Guyana and even though some people came with their candles they were afraid to even go and light them."
Edghill said that now during the various activities held throughout the year people would come out in droves. She said that stigma reduction was tied to the community at large and that persons had to assess themselves and address others with a level of support and respect before there can be a real reduction in stigma.
"We have medications for persons living with HIV and AIDS in Guyana. I do not know that the number of people who can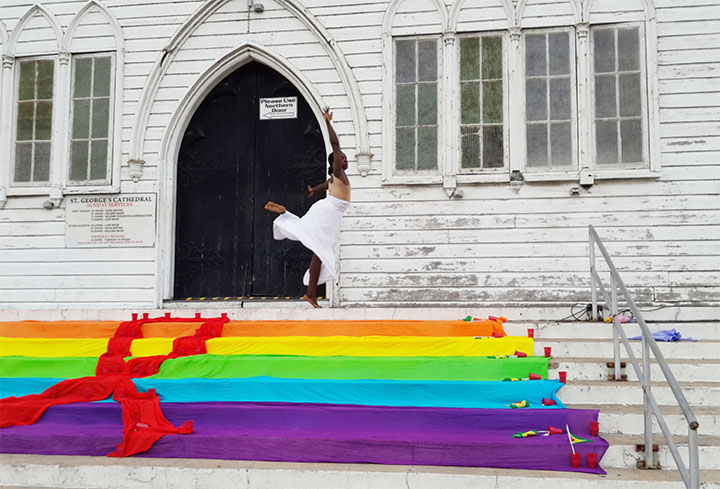 be treated are accessing those medications. And it is not because they can't, it is because they won't because they feel that they will be stigmatized and discriminated against and that is self-stigma," she said.
Recalling what the societal situation was like over 20 years ago when the fear was at its highest, Edghill said persons would be grieving and others would laugh and insist that HIV was what persons deserved because of their sexual orientation. She noted that in the past the fear was real and that people rarely spoke about HIV; instead the focus was on AIDS and there was paranoia.
Noting that various HIV/AIDS programmes were operating with a reduction in funding and that more was expected to be done with less, she said tackling the negative stigma needed to be addressed before funding could be of any use.
The small crowd supporting SASOD's initiative was treated to various musical and dance routines along with poetry readings. On site, the Ministry of Health's mobile testing unit administered tests not only HIV, but also for syphilis and hepatitis B.
Though the event has only been celebrated in Guyana over the past few years, the international effort has been in existence for the past 31 years.
Around the Web