The mother of a baby kidnapped on Saturday on the Corentyne is calling on the public to provide any information it may have on the whereabouts of the child.
Sandra Mclean, 22 of #60 village Corentyne, Berbice, had her nine-day-old baby called 'Avi' spirited away in the vicinity of the Port Mourant Market on Saturday last. According to reports Mclean was making preparations for the ninth-day celebration for the child when Bibi Khan, a woman she met at the hospital, went to her home and told her to dress the baby as they were going to Rose Hall Town to get some items for the celebration. After the women finished shopping they stopped at Port Mourant Market to buy hassar and the woman disappeared with the baby after sending McLean to make the purchase.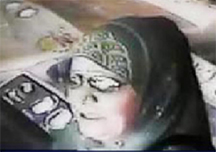 Surveillance footage of the alleged kidnapper in Rose Hall Town has been handed over to police in B Division to aid in their investigations.
Brian Joseph, Police commander B division said they have intensified the search for the baby.
Around the Web