The body of the man who was found on the access road in Eccles Industrial Site on Saturday evening with several gunshot wounds was yesterday positively identified by relatives as Rawle Newton called Satan Ambassador.
The body of Newton, 27, of Lot 119 Caesar Street, Agricola and Lot 35 Princes Street, Lodge was discovered on the dark, isolated road in Eccles around 2200h with three gunshot wounds; one to his side, another to his arm and one to his head.
Stabroek News understands that his body was positively identified by his mother and other relatives yesterday at the Lyken Funeral Parlour.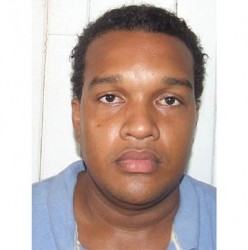 On Sunday, someone who believed the man to be a relative contacted the funeral parlour after a photograph of the dead body appeared on the front page of the Kaieteur News. The caller reportedly asked if the body was indeed at the funeral parlour, but made no effort to provide any name.
Sources had said that five persons then turned up at the funeral parlour on Monday seeking to identify the body. However, since they showed up without the police, they were not able to view the body.
They were told that if they returned with a police escort from the Providence Police Station, they would be able to go through the identification process.
Yesterday, Newton's sister told this newspaper that their family won't get any justice. "We won't get justice for my brother because police won't investigate the murder."
She added that her brother used to receive a lot of death threats and had to go into hiding shortly after he was released from prison.
In September 2010, Newton had appeared at the Georgetown Magis-trates' Court charged with the murder of gold dealers Jainarine Raghubar and Ramdeo Deonarine. Ex-soldier Keron Herbert was also charged in relation to the murders.
Millions of dollars in cash, gold and diamonds was taken from the Second Avenue, Bartica house where the bodies of the two gold dealers were discovered on the morning of Sunday September 5, 2010.
Deonarine, 50, of Ruby, East Bank Essequibo and Raghubar, 43, of Fairfield, Essequibo Coast were discovered on the kitchen floor of a Second Avenue Bartica house. There were deep wounds to their throats and they were bound.
Around the Web