The Guyana Revenue Authority (GRA) partnered with the Food and Drug Analyst (FDA) Depart-ment to join 111 other countries in a global week of action aimed at sensitizing the public about the online sale of counterfeit and illegal medicines.
Operation PANGEA is the largest international internet-based operation focusing on illicit websites selling imitation medicines, a press release from the GRA said. Operation Pangea VII engaged police, customs and national regulatory authorities to target websites supplying fake and unapproved medicines, and to increase awareness of the serious health risks connected to purchasing medicines online. Public awareness campaigns were conducted in many countries. Six were produced by Guyana.
The anti-counterfeiting initiative saw 543, 531 packages inspected by customs and regulatory authorities, of which 19,618 were seized. It also resulted in the seizure 9,482,646 units of potentially dangerous medication with a value of US$35,859,018.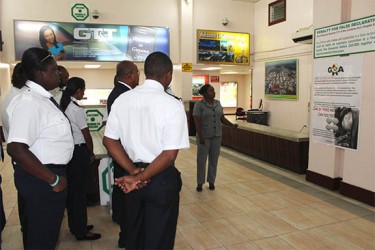 In its third year of participation, the GRA took its campaign to various ports of entry to brief customs officers not only of the dangers associated with purchasing pharmaceuticals online, but also the necessity of recording all medications entering Guyana. The campaign was complemented by the recording and airing of a special edition of GRA's  television programme, 'Let's Talk Tax' which focused on the dangers of procuring pharmaceuticals via the internet and GRA's and the FDA Department's role in monitoring such imports.
"Operation Pangea VII was coordinated by INTERPOL with the World Customs Organization, the Permanent Forum of Inter-national Pharmaceutical Crime, the Heads of Medicine Agencies, Working Group of Enforcement Officers, the Pharmaceutical Security Institute, Europol, and supported by private sector companies including the Center for Safe Internet Pharmacies, Visa, MasterCard, PayPal and LegitScript," the agency said.
The week-long programme which was held from May 13-20, targeted the main areas involved in the illegal online medicine trade: Internet Service Providers (ISPs), electronic payment systems and delivery services. More than 9,610 websites linked to illicit online pharmacies were identified and shut down, in addition to the suspension of payment facilities of illegal pharmacies and the disruption of a substantial number of spam messages, the press release said. A dedicated operations centre at INTERPOL's General Secretariat headquarters in Lyon, France served as the central hub for information exchange among the participating countries and agencies. The goal of the international week of action was to protect the public's health by increasing public awareness about the dangers and risks associated with purchasing medicines and medical devices from websites. The operation also intended to identify the producers and distributors of counterfeit or otherwise illegal pharmaceutical products or medical devices, target these individuals or businesses with civil or criminal action and seize counterfeit and illegal products and remove them from the supply chain.
Around the Web