By Mario Joseph
With no local government elections having been held since 1994, many residents of the neighbourhood council that encompasses Mon Repos, Annandale and Lusignan on the East Coast of Demerara are unaware of the requirement for holding these every three years even though they have deep grouses about problems in the community.
The Mon Repos/La Reconnaissance Neighbourhood Democratic Council (NDC) has been under the control of an Interim Management Committee (IMC) since 2012. The committee is chaired by Annette Dass and comprises seven other government-appointed members along with two community members, elected as councillors. The standard model for this council is supposed to be 18 elected     councillors. The two elected councillors were sought for interviews but Ramjeet Persaud declined comment and Abdool Kadir was unreachable. The chairman herself citing her busy schedule and a family emergency did not provide any comment to Stabroek News on the state of local government in the community but committed to making herself available sometime in the future. The council meets monthly on the second Tuesday of each month at 17:30 hours with little to no citizenry involvement according to Overseer, Parisiram Ramkissoon.
The East Coast NDC is north-bounded by the Atlantic, south by the East Demerara Water Conservancy, west by a common dam between Mon Repos and Triumph and east by Agriculture Road at La Reconnaissance. It is said to cover some 28 communities according to Ramkissoon, some of which have not been formally handed over to them. The council is responsible for maintaining some eight schools, two health centres and a cemetery. In their possession is a compacting truck, donated by the Ministry of Local Government in November of 2013 and two tractors which facilitate garbage collection and drainage works for the communities. Rating the performance of the council as good, Ramkissoon highlighted one problem facing it, which is timeliness. He explained that any work costing more than $100,000 has to get approval from the Ministry of Local Government and that this delays the work. He also explained that timeliness is an issue for the residents as they would demand that work be done immediately but the NDC would not be able to facilitate that because of ongoing works or the required approval for expensive works. Local government reforms which have been passed envisage greater financial autonomy for NDCs and access to more resources.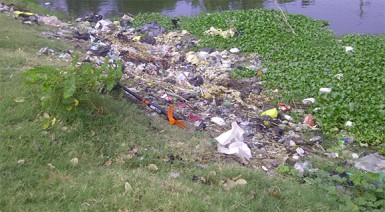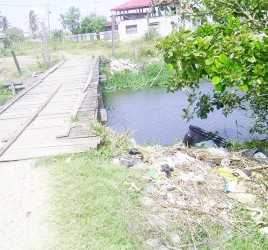 Four employees of the NDC shared their views with Stabroek News on the work of the entity and opined the need for Local Government Elections (LGE). They were unwilling to have their names published. Among their comments on Local Government Elections were "It is a big problem", "We need a change", "We never experienced it so we don't know its importance" and "We accustomed to one thing (General Elections), we know nothing else". All interviewees admitted to knowing little to nothing about LGE, which have not been held since 1994, and said that they only heard about it recently because it is constantly in the news. The group ventured to say that most persons younger than mid 30's or so wouldn't know, because they would not have experienced it either. They then agreed on one message they would like to send to the government, "Tell us what LGE is and if it is our right, let us have it". The individuals did not have anything negative to say about the council that they worked for as they were of the view that it was well run and the communities are well taken care of.
Ten male residents of the Deandra South Village of Mon Repos shared their views regarding the need for LGE. "It gotta happen", were the sentiments of one resident; with another saying "By de time we get another election, it gon be time fuh de general election again". The men who were playing dominoes and having an afternoon beer at a shop were fully aware of the plight facing the country regarding the state of communities countrywide. They attributed blame to inefficient regional, neighbourhood and municipal councils and ultimately the government.
The group in making their case highlighted the various deficiencies in their community such as a large dilapidated bridge over the canal separating Good Hope from Mon Repos, built by a businessman who died years ago after which maintenance halted. This bridge they say is used by a large number of children who walk to the Mon Repos Primary School. They say it's very dangerous and the council needs to do something about it. They criticized the council and cited a road built along the same canal sometime last year. They say the road was incomplete since it did not extend all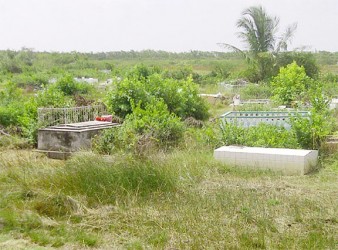 the way to the back where a number of persons live. They also showed this newspaper unsatisfactory roads also built within the last few years calling them "short cut roads". To this end, Ramkissoon stated that the construction of roads is not their responsibility, that they only patch roads.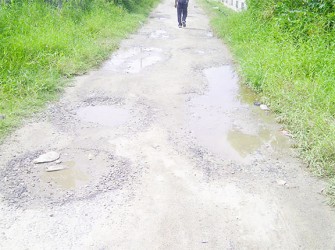 The men, mentioning several petty robberies at night, posited the need for street lights. They also pointed to the prior-mentioned canal which was overwhelmed with garbage, placing most of the blame on delinquent members of their community. In addition, they explained that the council only collects garbage once weekly and this may be a contributing factor.
One resident who was willing to go on record, said that the garbage in the community is the biggest problem and that the council is just wasting time. Bibi Mohamed who resides in Fourth Street, Mon Repos said that she has been living there since 1977 and this was never an issue back then. When asked of her thoughts regarding Local Government Elections, she admitted that she didn't really hear of it before but asked to be enlightened. After it was explained to her, she offered some advice to the Government of Guyana, saying, "I feel we should get the Local Government Elections and I will go out and vote. The Government should not be afraid to call the elections if they have done a good job."
Another resident of Second Street, Mon Repos pointed to the road in front of his house, calling it a saw because of the zigzag patterns. One resident in Lusignan, who was on his way home, walking, said that several of the roads in his village are bad but not that bad. When asked to point out infrastructure problems in Lusignan, he indicated the garbage on the public road and in the trench where the market is. When asked about his understanding of the work of the NDC responsible for his area, he had this to say, "They only paying attention to fixing the outside areas, because that's where people see, but when you tek a walk to the back parts of any of these areas you does see de problem". Having not ever attended a council meeting, he stated that he didn't know the public could attend. When questioned about LGE, he had this to say, "Listen, is only recently yuh hearing bout dis ting and from wah I understand is that the government gotta call it or else the opposition gon cut more funding from them". The pedestrian in parting gave his commitment towards voting at LGE when, if ever, it is held.
Around the Web