City Hall's statutory meeting was yesterday brought to an abrupt end after the public was not allowed into the meeting and also because an attendance book was not supplied by Government appointed Town Clerk Carol Sooba.
Shortly after the statutory meeting began, Georgetown Mayor Hamilton Green after observing that members of the public were locked out of the gallery and the absence of an attendance book that is necessary for the council to record their presence at meetings, adjourned the meeting.
Weeks of acrimony has played out between the council and Sooba over the post of Town Clerk and several legal proceedings have been filed as a result.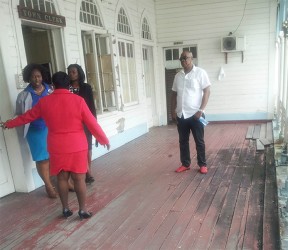 At a press conference immediately after the adjournment, Green said that he was "concerned that even though the state has appealed every aspect of the Chief Justice's ruling there seems to be some connivance…"
Green added that he has since spoken to the Chief Constable at City Hall about several "shady characters about the building."
"There are several shady and unsavory characters like Sean Hinds around the compound and several councillors have expressed fear for their safety," he said.
In the middle of Green's statement, the PA system in the room was cut off forcing the mayor and councillors to raise their voices.
According to Deputy Mayor Patricia Chase-Green, "How could we sit in the chambers with the door closed?"
She added that "I will not sit in a locked building after we have questionable characters …taking our pictures and pointing us out."
Asked about what will happen at the next statutory meeting, the deputy mayor said that "we are hoping that the court will rule one way or the other before the next statutory."
Meanwhile, Sooba told reporters that the Mayor had called her an "interloper" at the statutory meeting. Chase-Green however said that "the Mayor did not call Sooba an interloper. He said that there are interlopers in and out of the building. She has no understanding of the English language. She was annoyed because she was not addressed as Town Clerk…she came with the intention of not holding the meeting," Chase-Green said.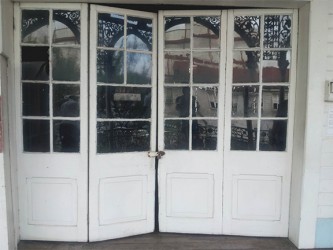 She added that Sooba had said that the building was being closed for security reasons and that the keys were misplaced, "but that is not true; at the last statutory meeting she had opened the door," she said.
In an invited comment, Council-appointed Town Clerk Royston King said that he was cognizant of the decision of the High Court in relation to his role and as such did not proceed to hold a statutory meeting yesterday.
The last statutory meeting ended prematurely after a bomb scare forced the evacuation of the building. There was also a tussle between Sooba and King over who would occupy the Town Clerk's Chair.
Around the Web