The new state-of-the-art Tuschen Nursery School was yesterday commissioned by St. Kitts and Nevis Prime Minister Denzil Douglas at a formal ceremony held within the vicinity of the school compound, where Caribbean Development Bank and Government of Guyana officials were on hand.
Douglas and bank officials are in Guyana for the two-day 44th Annual Meeting of the Board of Governors, which begins today.
Referred to as a Caricom-standard of Early Childhood Education, the new school houses some nine, well-equipped and fully furnished classrooms, a multipurpose space, a parents' waiting room, a staff room, an administration office, a kitchenette, a sanitation area and a water storage area. It is described as the first of its kind architecturally.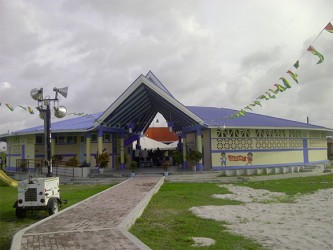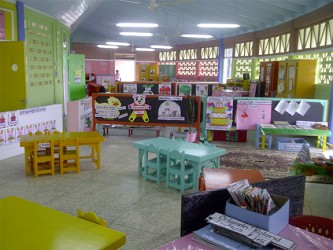 The school has a staff of 10 teachers—in keeping with the Caricom standard—who cater to a student population of some 180 students.
Although the school was constructed between September, 2012 and July, 2013, its furnishing was only completed sometime this year and occupation of the facility began in the first week of April. Up until then, the students were being accommodated at the nearby Tuschen Primary School.
The school was built under the Basic Needs Trust Fund, which comes under the Caribbean Development Bank's programme of reducing poverty through social-economic initiatives and community empowerment.
The institution's commissioning was attended by Prime Minister Samuel Hinds, who delivered the feature address. There were also remarks by Caribbean Development Bank President Warren Smith, who was accompanied by his wife Dr. Anne-Marie Irvine Smith, and Finance Minister Dr Ashni Singh, who also delivered brief remarks. The ribbon was cut by Douglas along with Irvine Smith.
The commissioning was also attended by several senior officials of the bank, including directors, the Region Three administration, representatives from the Department of Education, teachers, parents and community members.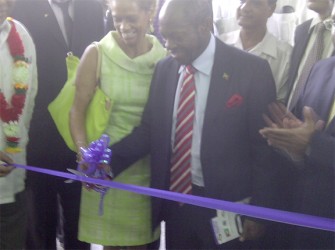 Around the Web