Two men were yesterday accused of stealing over $400,000 worth of gold from their employer.
Wesley Morrison, 42, of 9 Belfield Housing Scheme East Coast Demerara and Royston Herod, of 10 Two Friends Village, East Coast Demerara were brought before a city court and charged with stealing two ounces of gold, valued at $440,000, at the Moruca Backdam from their employer, Ivan Waithe. The duo was not required to plead to the charge, which stated that the crime occurred between April 28 and May 2. They were each granted $300,000 bail following applications on their behalf by their attorney.
According to Prosecutor Bharat Mangru, the facts were as charged. Mangru also objected to bail for both of the men. In Morrison's case, Mangru objected to bail on the grounds that the man was a possible flight risk. According to Mangru, Morrison had left the interior after the commission of the act, unknown to his employer. He had been sought several times by the police as well as by Waithe but all attempts at communication had been futile, Mangru said. It was only until a sting operation had been set up that Morrison was caught, he said.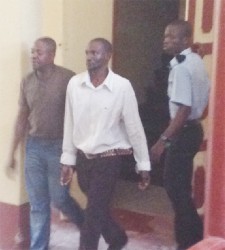 In relation to Herod, Mangru pointed out that more charges are likely to be laid against the man. The prosecutor also stated that the penalty the offence attracted might dissuade Herod from returning to answer to the charge.
Mangru added that more charges are likely to be laid against Morrison as well. Several other dates needed to be checked to verify whether more gold was missing, he noted.
Rexford Jackson represented both of the defendants and explained that the men had both been employed with Waithe for quite some time. Morrison, he said, had been employed as a general manager for 14 years, while Herod was a supervisor for a considerable number of years.
Jackson further stated that there were four other employees and none of them had been questioned or charged in relation to the missing gold. Neither of the men, he said, had any prior brushes with the law and he maintained that they were not flight risks.
Jackson emphasised that his clients had so far fully cooperated with the police and were willing to have their travel documents lodged.
As a result of his application, Prosecutor Mangru's objections were overruled and the defendants were both granted $300,000 bail on the condition that they lodged their passports. The matter was transferred to the Bartica Magistrate's Court when it will be called again on June 12.
Around the Web