Grenadian Prime Minister Dr Keith Mitchell has told regional officials responsible for statistics in the various Caribbean Com-munity (Caricom) countries that Information and Communication Technology (ICT) can serve as a potent force in helping to move the region forward "quickly and effectively."
Delivering the keynote address at the Second High Level Advocacy Forum on Statistics in St George's on Monday, Dr Mitchell said that if the region is to create the data revolution that it desires ICT must be the engine to propel us towards that goal.
The Grenadian Head of Government who serves as Lead Head of Government on ICT in the region told the forum that he was heartened to see that part of this week's key regional forum on statistics was "devoted to the application of ICT in statistics." He said that this was "in keeping with Caricom's broad goal of developing a single Caricom ICT Space to enhance the environment for investment and production," according to a statement from the Caricom Secretariat.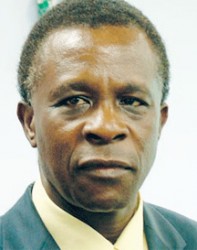 Monday's forum was part of a four-day programme comprising a series of meetings and discourses among regional statisticians designed to promote regional commitment to the strategic development of statistics in Caricom member states and associate member states. Information released by the forum organisers said that the series of meetings will also seek to facilitate the "availability of relevant, timely and high-quality statistics to inform the strategic direction of the Community through the implementation of a harmonized Regional Statistical Work Programme at the country level."
Dr Mitchell also told the gathering that he believed that ICT has "great potential" to transform national and regional statistical systems to inform solutions to the majority of the Caribbean's data challenges. "Technology has the potential of significantly cutting costs and reducing the time taken to collect and produce solid data thus enhancing efficiency….In these challenging times ICT and Statistics cannot be isolated from each other," he said.
Around the Web