A US-based Guyanese was remanded to prison yesterday on a charge that she attempted to smuggle nearly eight pounds of cocaine hidden in frozen fish on to a flight to New York.
Joyce Ram de Cunha, of 55 East 99 Street, Apt. 13A, New York, New York, appeared before Chief Magistrate Priya Sewnarine-Beharry yesterday afternoon to answer a charge of possession of narcotics for the purpose of trafficking. The charge alleged that the woman had in her possession 3.498 kilogrammes of cocaine on May 28 at the Cheddi Jagan International Airport, Timehri where she was apprehended.
The unrepresented woman, who also supplied a First Street, Alexander Village address to the court, pleaded not guilty when the charge was put to her.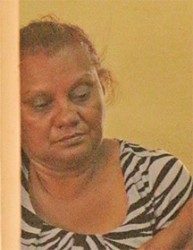 According to Customs Anti-Narcotic Unit (CANU) Prosecutor Oswald Massiah, Ram de Cunha arrived in Guyana on April 15 and was scheduled to leave the country on May 28 aboard Caribbean Airlines flight BW524 destined for New York. At the time, Massiah said, the woman had two pieces of luggage with her.
Acting on information received, an on-duty CANU officer approached the woman onboard the plane and asked her name and several other details. She was then invited off of the plane for further questioning.
Massiah stated that the woman verified her suitcases when they were presented to her. A bunch of keys were provided for the suitcase but none fit them, he added.
In her presence, a suitcase was pried open and checked. Inside was a smaller suitcase surrounded by five fish wrapped in plastic and newspaper. Upon closer inspection of the fish, it was discovered that they were all stitched with black polythene thread. Looking through the stitches, the officer noticed a shiny material which was soon identified as foil. The foil was pierced and a white, powdery substance emerged from within.
When confronted, Ram De Cunha reportedly admitted that a man called "Fine Man" had given her the fish to take to another man in the US.
The woman and her belongings were taken to the CANU headquarters. There, the smaller suitcase was also opened in her presence and revealed one fish wrapped in a manner similar to that of the others. This fish, Massiah said, was seasoned. Cocaine was also discovered hidden in its belly. Massiah pointed out that no clothes at all were in the suitcases.
Massiah added that a check of the woman's passport also showed that she had arrived in Guyana on March 9 and had left a few days later on March 15.
No special reasons were raised for the consideration of bail and the defendant was remanded to prison until Monday June 2. She will make her next appearance before Magistrate Leron Daly at the Providence Magistrate's Court.
Around the Web